I am 27 years old. I didn't use eye cream at all. After all, I still do not have wrinkles in these places, even mimic. And in the near future, it seems, their appearance is not expected.
And so, when I came to the next session at the beautician, she began to ask me what kind of creams I was using. When she learned that there was no eye cream in my arsenal, she was very surprised. Therefore, I was given a small lecture on this topic.
Why do you need eye cream?
What did the specialist say? As a rule, up to 25 years the skin around the eyes does not require special care and nutrition. It is enough to wipe it with light solutions, like micellar water. But after this turn, the eyelid skin gradually begins to lose its former elasticity and it already needs nourishment.
And after 35 it's already too late to find out: if you don't start prophylaxis of moisture and nutrition in advance, then wrinkles will already be very noticeable by this age.
Of course, much also depends on the natural disposition: someone even in 45 years has rather smooth skin around the eyes, and someone by the age of 30 has a distinct mesh.
But still it is in our power to minimize the possible earlier appearance of wrinkles in the corners of the eyes. To do this, invented special creams for this zone.
How I chose the cream
But now such a huge selection of eye creams of different brands that just get lost in the choice. Naturally, I asked the beautician to advise me.
The specialist said that for my skin (for the category from 25 to 35 years) it is necessary that hyaluronic acid is present in the cream for the eyelids – as the main component of moisturizing. As well as vitamin C – it just helps to prevent the appearance of small wrinkles and gives the skin extra elasticity.
Also, having learned that I was going to go to Israel soon, the cosmetologist advised me to buy cosmetics there. After all, the Dead Sea cosmetics are usually very good. And in a producing country, it is several times cheaper than ours. Yes, and a fake more difficult to run into.
As a result, in the Holy Land in a shop on the shores of the Dead Sea, I purchased a jar of Sea of ​​Spa cream, a series called Alternative Plus. It cost, taking into account the discount of 150 shekels – 1350 rubles on our money.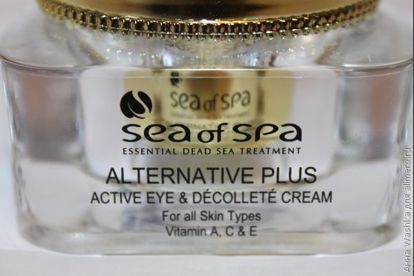 What is cream?
The cream is packed in a flat jar with a volume of 50 ml, with a golden lid, which is quite easily removed. The cream itself is a thick snow-white mass with a pleasant sea smell.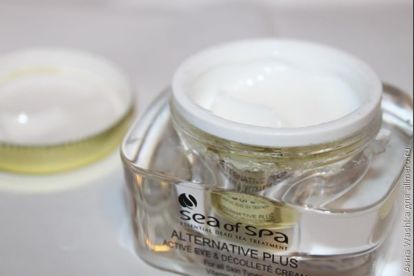 The composition is very attractive. Here you can find olive oil, borage seed oil, Dead Sea minerals, and hyaluronic acid with vitamin C that I need.
Besides the fact that the cream is designed to care for the skin around the eyes, it can also be used for the neck and décolleté. The instructions also indicate that it emphasizes the shape of the lips.
The cream should have a firming and deeply moisturizing effect, providing a more durable and smooth skin texture.
My impressions of the cream
When applied to the skin, the cream is visually absorbed quickly. But still I can not say that it is absorbed completely. If you touch the skin at the site of application, a thin cream film will be felt with your fingers.
I have nothing to compare, in terms of eye creams. But when compared with ordinary day moisturizers, they are usually absorbed well and are not felt on the skin. Here is another situation.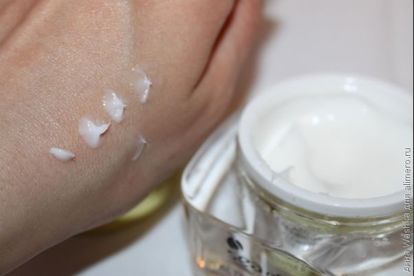 Even when I applied the cream in the evening, then in the morning, when I washed my face, I felt this film. As if I cried all night and woke up with wet eyelids for centuries. This, of course, for me is a minus of this cream.
Of the benefits – cost. After half a year of active use (once or twice a day), half of the jar remained.
With its direct purpose – to prevent the appearance of wrinkles around the eyes, the cream coped. For six months – not a single fold was formed. True, I am not sure that they would appear without using this cream … But I will continue to use this remedy, and when it is over, I will try something else.