In the spring, Garnier launched a new line of face creams, Vivifying Moisturizing. I turned all four boxes in my hands, read the promises of the manufacturer and the compositions. I chose a couple. Satisfied, good product for its price.
In the Life-giving Moisture line, four creams for different skin types: for dull, for normal and mixed, for dry and very dry, for mixed and oily.
I took the first two. Because nourishing and rich cream for dry skin for the summer would be oily. And in the matting cream-sorbet in the composition, I saw alcohol, I did not like it. And there was an action in the store, and I got creams for 140 rubles each, and a 50 ml tube costs up to 240.
Moisturizing need any skin. Imagine a flower that was thrown without watering. He is fading. Similarly, our skin becomes moist and flaky without moisturizing.
By the way, many women do not use creams, because skin is oily. And this is wrong. Because, producing sebum, the skin is protected from external factors. By secreting sebum, the skin loses moisture.
And if there is a lot of sebum, then something is wrong with the skin. And only purification without moisturizing exacerbates the situation.
Remember the faded plant. On the skin without watering wrinkles are very noticeable, they become more and more. And moisturized skin, on the contrary, smoothes and becomes elastic.
In addition, makeup is well placed on moisturized skin: tonal will not fall into the pores, and powder will not emphasize peeling.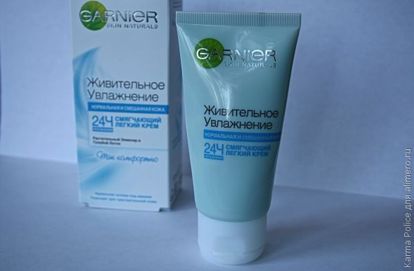 Soothing light cream
This cream is designed for normal and mixed skin. It contains a plant elixir (the so-called complex of trace elements and nutrients) and an extract of the blue lotus, which softens the skin.
The texture is stated as non-greasy and quickly absorbed. I can argue with that, for the winter-spring the cream is good, yes. In the summer afternoon, I do not risk applying it. Used for the night, and in the morning the skin was fat. But for the neck and décolleté very much.
The color of the cream, as well as the packaging, is slightly bluish. Smell – floral and fruity.


Emulsion for skin radiance
Cream for dull skin that gives blue and tone. It contains the same plant elixir and lemon extract, as well as reflective pigments and sunscreen SPF20.
The cream is really absorbed quickly. As a day cream, it suits me very much. And, if the cosmetic industry does not give out some interesting news for me, I will repeat the purchase.
I also liked this cream very much because in its smell I clearly hear the scent of mimosa flowers – I love it from kindergarten!