If the lips are peeling and cracked – no makeup will save. On the contrary, shells and wounds will be even more noticeable. You can refresh the skin with peeling and scrub. I will share with you homemade recipes that I tried.
1. Sugar and butter
The first recipe is this: take a saucer or a bowl, pour a pinch of sugar, drip butter. Any baseline will do: olive, peach, almond, in general, which is. And you can even take vaseline instead of oil.
I take the gruel on my finger, put it on my lips and gently massage for a minute. Saccharins remove dead skin and oil moisturizes.
Such a scrub, if you prepare for future use, you need to store in the refrigerator and not longer than a week – the oil may become rancid.
2. towel peeling
Very simple and effective way to remove the husks from the lips. True, no good, if they are wounded. Before a shower I put on a lip balm pozhirney. After water procedures, I take a towel and gently wipe their lips.
I take candied honey on the tip of a spoon and pour as much soda into it. In principle, candied honey itself is a scrub. Naturally, this recipe is not suitable for those who are allergic to honey.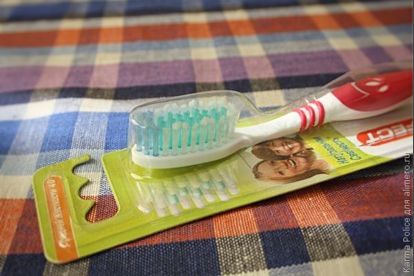 4. Toothbrush
After a nourishing balm or water treatment, lightly massage your lips with your toothbrush. The skin is leveled with a bang, the blood rushes – a useful massage.
If the brush pimples for cleaning the tongue on the back side, they are also suitable for peeling. After the procedure, be sure to apply a balm on the lips.
To exfoliate the delicate skin of the lips, a peeling of the face is suitable. But in my cosmetic bag he is an infrequent visitor. But I used the following recipe: I put a fat cream like Nivea on my lips in a tin jar, kept it on my lips for about 15 minutes, and then rolled up the remains with my fingers.
6. Fruit peeling
Probably the most unusual recipe. But it works. I eat a sour apple, lips I smear it with juice. After a moment I rub my lips and take off the husks and old skin from them.
7. Favorite Recipe
I take candied honey and brown sugar in equal shares, drip a few drops of base oil, mix it up. The last time did such a scrub with jojoba oil.
It is better to use it after water procedures or on steamed skin (just hold a damp hot towel on your lips for a couple of minutes). I scrub a finger, apply it to my lips and gently massage it. I wash it off with warm water and apply a balm on my lips.
This scrub removes small and large peeling, smoothes the relief of the lips, nourishes them, moisturizes, tones and rejuvenates. Lips immediately become softer and softer.
True, these recipes are better than another jar of purchased products?