Every normal mother wants her baby to grow up the most. The healthiest, the smartest, the most beautiful and, most importantly, the happiest. In order for such dreams to come true, you need to make a lot of effort to both mother and child. But the main responsibility for the result of education lies, of course, on the mother's shoulders.

Health is the most important thing.

Physical and mental health are the two most important personality characteristics, the foundation on which all life is built. And everything depends on how strong and properly designed it is, starting with school grades and ending with the choice of spouse in the future. It is better to start taking care of the usefulness of the body from early childhood.
I believe that one who does not control his body, does not feel it, does not know how to control and understand, will never be able to master his own spirit. Therefore, while still a student, I began to master yoga little by little. My first asanas were simple, not requiring particularly difficult preparation. It is to them that I am now teaching my niece.
Yourself gurus
In our city there are no classes of child yoga, so we learn to cope on our own. My niece, Nastya, is only 7 years old, respectively, before understanding the true benefits of asanas and breathing exercises, still grow and grow. To create her motivation to do something, you need to turn any process into a game. This is the only way to catch the attention of restless. Therefore, I take as a basis for our studies simple classical poses that can be beaten in a fabulous way.
In classes with a child, correct relaxing music and a general attitude are very important. You shouldn't do it when a kid is at the peak of activity, for example, he just came back from a walk, nothing good will come of such an attempt to tame natural impulses. It is possible and necessary to introduce relatives and favorite toys to a healthy gameplay, as it is always more fun together. Clothing for training should be comfortable and pleasant. The child should like the patterns and colors. It is advisable not to wear a suit for yoga in other circumstances. Below I will give a few examples of asanas that Nastya and I have already mastered. So number one is the famous Dog, snout down.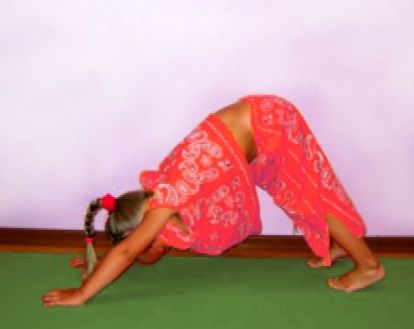 It is easily played up and is included in absolutely any stories. Cobra. Nastya favorite asana.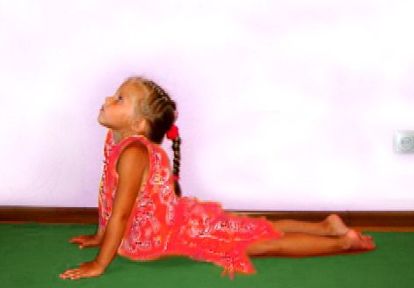 At the very beginning, I told her how a snake wakes up and bends upward to look at the sun, and then hides in the grass so that no one can find it. Then he looks at the sun again and again hides in the grass, and so the necessary number of times.

Savasana, posture of a corpse.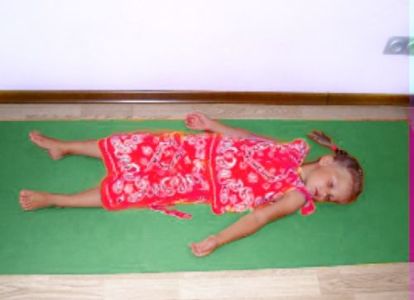 Favorite relaxation posture of many adults. For most active kids, it seems overly complicated due to the need to calm down and relax for a while. Nastya and I do it after a cycle of dynamic active exercises as a rest.
Often we play Transformers. The author's creation, something resembling the Sea worries once, specially modified for yoga. Nastya freezes in the right posture, which I guess, then slowly gets up, moves a little and at the expense of five slowly takes the next pose. Then we change, she commands the parade, and I do the exercises. The options to interest the child in yoga are a huge amount, the main thing is not afraid to connect creativity and ingenuity.
And, of course, be attentive to the wishes of the baby, so that the classes are not only useful, but also enjoyable for both of you.