When our eldest child moved to the kindergarten preparatory group, we thought about preparing for school. Signed up for courses for preschoolers. As classes began, it became clear that the child was a little distracted, easily distracted from studying educational material.
Our problems
Actually, some problems were noticeable even earlier, in the kindergarten. It took our son a long time to get dressed or to undress. In the classroom he could sit and dream, instead of engaging in coloring. Reading and writing was also not very easy.
The question of going to school at the age of six was not even in our family. In the kindergarten, the children were not summoned to the summer cottage in the summer, as he was not too independent in comparison with other children. At six, he also did not read very well, and there were continuous problems with the letter.
By the way, from our group in kindergarten, parents sent two girls to school at the age of six. As far as I know, children have adapted well to school.
Well, we, with the children remaining in the group, moved to the preparatory group, and here we were already deeply thinking about how the child would perceive this transition from a relatively carefree life in kindergarten to the first grade.
My son has made progress in the courses, he learned a lot; At the same time, he could not cope with some tasks.
It should also be added that the transition to a more independent life in school in itself scared us, working parents. It so happened that in our family there were no grandparents who could help monitor the movement of a child to and from school home.
Maybe we should stay for one more year in kindergarten?
Gradually, the decision to not send a child to school at the age of seven began to ripen, but to remain in kindergarten for a year. Honestly, it was necessary to weighty grounds that we were given a place in the kindergarten for this extra year. But when we turned to a neurologist for medical advice, she was sympathetic to our situation.
It turned out that the local neurologist herself sent her son to school at the age of eight. By the way, the famous decision to reduce the age of admission to school was made in 1983. And now, many kids go to school at 6.5 years, and some even earlier.
Supporters of the early start of training refer to the experience of foreign countries, but usually there the classes are held in a free form, allowing for quite a voluntary, direct behavior of the children. Teachers are engaged with children in those activities that are more suitable for young children.
We consulted with the school psychologist. She said that if there are difficulties, of course, it is better to wait a year. She added that, according to some observations, boys at this age, on average, lag behind the development of girls not by one year, but even by two.
And so we stayed in the kindergarten in the preparatory group for another year. That is, it was already another group – the children from our former group entered first grade. This calm year has also passed …
We go to first grade at eight.
When we came to school a year later, the child was better prepared for classes and adapted to independent activities. Of course, some problems remained, but significant learning successes were found. It turned out, the son writes competently; able to express quite common sentences.
In some difficult school situations, we tried to support our son, to emphasize his dignity. So what if the son is a little slow – but he is a calm, friendly child. A little scattered, but loves school activities.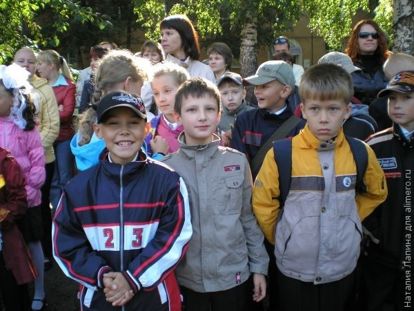 I believe that the main thing at this stage is the effectiveness of mastering the school curriculum and preparing for adult life. I am sure that the child went to school, being ready to master complex subjects, and did not feel lagging behind.
However, in the first six months of training, the teacher expressed to us that the child has serious problems in learning the material. In my opinion, we were threatened with failure; Perhaps the teacher was considering a recommendation to go to a correctional class …
However, then a certain turning point took place. My son had a sharp breakthrough in mastering the Russian language, and it turned out that he was writing without mistakes – in fact, the best in the class!
Several years have passed, and everything is fine with our studies. Fours, fives, one three for a quarter. And yesterday, the teacher recorded her son at the city Olympiad in Mathematics (him and two other girls from the class).
Cons of going to school at eight
Honestly, we did not notice the minuses.
Yes, we were told that after school we will have less time to enter the university, and we can almost immediately be in the army. But … the circumstances were such that after two years, the child was diagnosed with a serious neurological disease, with whom they would not take their son into the army. Of course, this is a separate story, but we are also optimistic about this problem.