One day, the child watched a movie with Jackie Chan and said that he was going to do karate. He was six years old.
I started searching for sections, and it so happened that we ended up not in karate, but in taekwondo. Taekwondo is a type of martial arts that came from Korea. And, although the coach said that he usually takes children to classes from the age of seven, he still allowed to try. I think we are lucky that we met with a friendly, self-confident coach who loves his work very much and communicates smoothly with children.
In taekwondo, by the way, the trainer is called a teacher. And the philosophy of this kind of martial arts proclaims courtesy, patience, unshakable spirit, self-control, and honesty as its main principles.
First acquaintance: the child liked everything
Of course, at first I really liked the child in the classroom. Large gym (classes were held at the school), the present form, equipment. In the hall are engaged and older children who have already obtained quite complex movements. However, the most fun part of activities for the child was … warm up. After all, there you can run and jump, play football.
It's amazing how much joy children can deliver games! But the main part of the lessons was not so easy: movements and their combinations should be perfected to perfection.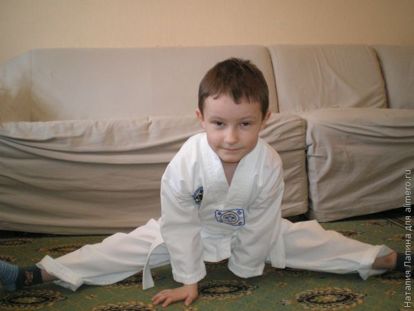 Our capabilities
It turned out that the child is very capable! Dexterous, hardy, active, he embodied those qualities that, I confess, I lack myself … Of course, the child perfectly sees his successes and is proud of them. It turned out that he quite easily converges with his comrades, including older children, with adolescents.
However, after the first months of classes, we learned that all children who are engaged in a group should improve their level and take part in competitions.
Competition
All the light, relaxed atmosphere of training in an instant changed to a tense, as soon as we were at the first competition. A large number of participants, a stuffy room … But the most difficult thing was the fight itself … It was at this moment that I understood what a set of qualities should be inherent in a true athlete … Optimism, unconditional love for your sport, ability to accept not only victories, but also defeats
It turned out that not all children (and their parents) want to take part in competitions. Whatever you say, but a meeting with a strong opponent can frighten and upset the child. The probability of physical injury is also present, and it increases as the participants of fights grow up.
At the competitions, I found that I could not look at the duel with the participation of my son. And not because of the fear of seeing painful blows, but because of some kind of internal stress, a heightened sensation of his stress state. It is at such moments that I feel how strong the connection between mother and son is, and … I am moving aside. At the same time, I am proud of him, and I am glad of his victories, and calmly accept defeat.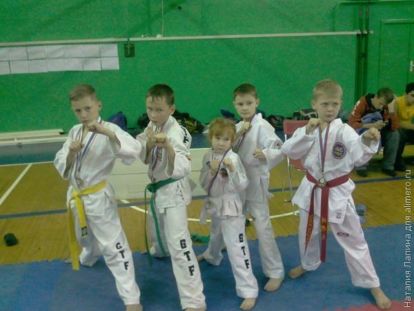 Baby gets bored
Time passed, and I noticed that sometimes the child no longer wants to go to workouts. Of course, I talked to him. It turned out that he believes that he already knows everything and knows how, and he is not so interested. I tried to convince him that perfection in any business can be infinite and one should try to become the best, if not in any business, but in that for which he has all the abilities.
We continue to engage
We visit our group for the fifth year. To my great regret, many guys stop playing sports – after a year or two of training. Of course, there are objective reasons for this, because martial arts require special courage, courage, and physical qualities. But as time goes on, new comrades and friends appear in the group. By the way, they support each other during competitions, help to equip themselves before the fight. In general, everything is like an adult athlete!
I see that taekwondo classes help us in school too. The child is collected, benevolent, sociable, although he is also not deprived of stubbornness. His activity is useful in training, and in the class he is quite restrained, and, by the way, he never likes to demonstrate his fighting skills. I don't even remember that he had a fight at school or in the yard at least once.
Sometimes it still seems to me that the child himself does not really appreciate his achievements in this kind of sport (he has several times become the winner in one or another category of fights). And I am sure that this experience is very important for him. I talk to him about it, but the problem is that there are so many interesting things in life, except for taekwondo! Computer games, walking with friends, football …
I am sure that my son will grow up, and the invaluable experience of training and competition will help him to be realized in life. The ability to take defeat and enjoy the victories is useful in school, at work, in life. And, I think, he will remember with a kind word his teachers – the very first, and others, with whom he has yet to meet.