Did you know that the pre-adolescent precedes the well-known teenage crisis? Do not rush to roll your eyes, sighing about another invention of psychologists. His symptoms can be recalled by everyone with the smallest details even in extreme old age.
What is a crisis
First of all, I want to make a remark of a terminological nature. Because we usually have the word crisis in other words, it reads like the boss, everything is lost!, Will survive – will not survive, again, they make excuses for themselves.
In fact, a crisis is a change in attitudes, patterns of behavior, goals, and other things. That is, when the world around it loses its usual outlines, when the previous rules of behavior no longer work or do not give the same effect.
We have to learn new rules to get out of the crisis. Well, or use the same and suffer that life is unfair.
But back to our boys!
Recently I learned from a video lecture by a practicing psychologist that another well-known adolescent crisis is preceded by another, which proceeds unnoticed, but which everyone probably remembers – pre-teen at the age of 9-11 years.
It manifests itself with two bright and characteristic signs. The first of them – the child has the idea that he is adopted in the family, that mom and dad are not his biological parents.
This thought arises because he clearly begins to realize his dissimilarity to others and, above all, internal. After all, he was used to realizing that relatives share some common features. And for some reason it seems that, apart from external ones, they should be common and internal.
And then suddenly comes the feeling that inside he is not the same as his relatives. That, in general, is natural. After all, every child is a separate person. And the search for external differences begins. And the striking external differences only reinforce this belief in acceptance.
For example, I am the only one in the family with blue eyes. All the others are brown. I remember how I secretly checked my parents' passports and my birth certificate in the hope of finding proof that I was not their own daughter. But father's children's photos and reflection in the mirror turned out to be more convincing.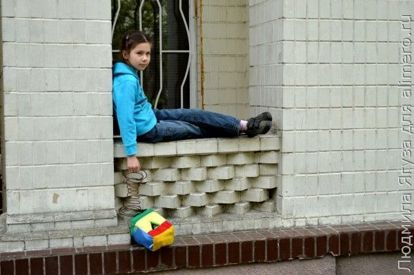 Second sign
The second facet of the pre-crisis is the desire to leave home. Not because everyone has got you here and it is impossible to live with them, but for the sake of isolation, adventure, search for world justice.
A psychologist from whom I heard about this phenomenon cited Tom Sawyer and myself as an example. She at this age with yard guys and a bag of crackers went to Vietnam to save the local population from the Americans.
I had no such strong intentions. But I remember, somewhere from this age I dreamed of going on a ship in a world voyage. I seriously thought about the options to enter the seafaring. There was something to think about, as girls are not taken there.
Variations on the topic
Not necessarily these two signs appear simultaneously. Sometimes the first is clearly manifested, and the second is passing in passing, like mine. It happens that covers the second sign of the child, and the first is not enough internal resources.
But the saddest thing is that children usually do not share these experiences with their parents. Maximum – with his bosom friends. And adults, not knowing about such features of the development of the psyche, when faced with the consequences, just get lost and do not know how to react to it.
Did you experience this in childhood?