The daughter categorically refuses to wash the dishes, even the cup. Although her grandmother, she is ready to wash her for all. Neither persuasion, nor threats, nor manipulations helped. Until I pulled myself together and found out the reason for this stubbornness.
I want to elementary instill in the child accuracy and independence. But the rule has eaten – wash it with you, until it takes root. Moreover, the daughter does not even want to clean the plate and cup from the table to the sink.
Each time I mark dirty dishes on the table after a meal, and each time it ends in an unpleasant squabble. If you do not notice, then you have to soak the dishes for a long time in water until you wash it.
I have already resorted to manipulation. You clean and wash – you get a tasty snack and mommy hugs. Does not roll. I tried threats: I'll sprinkle the next meal on the same plate, or I won't feed you at all, so as not to spoil the dishes and there would be no problem.
The daughter happily agrees to such an experiment. And I understand that only I imagine all the tragic consequences, therefore there is no effect from such threats. But what is most interesting, at the grandmother she behaves completely differently.
She knows that the grandmother is hard to wash the dishes (her left hand is paralyzed), so the daughter herself is taken to wash not only herself, but also her grandmother. Helps her clean the table and around the house. In general, the golden child, which is hard to believe at home.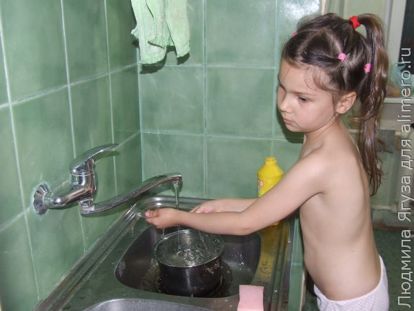 Way out


As always, solving a problem begins with mom's patience and sanity. Somehow during the next skirmish, though I'm splashing with indignation in all directions, I understand that the situation has reached a dead end and will not be solved by such methods.
Catching my breath and calming down a little, I begin to explain to the child why this situation makes me so sad. I want her to grow as an independent girl, responsible and accurate. And when I see that she behaves very differently, it upsets me very much.
To which my child, having thawed out, answers: Mom, I want to surprise you, as I usually do on Sunday morning, when you sleep. And you do not sleep and see everything. Very touching to hear such things.
I tried to convince her that I love surprises not only on Sunday mornings, but also on other days, at any time of the day. And the fact that I am not sleeping is not a problem, I still do not see what she does in the kitchen when I sit in the room.
I will not say that the child immediately began to clean and wash the dishes, but at least I felt for a new possible way to solve the problem.
Did you get into such situations?