My morning happy mom starts in the kitchen. This happens every day, well, except that March 8 can be deleted. And the children, if not with me at the kitchen, help so hard with advice how to cook and what.
I especially like the way they tell the ingredients of the dishes. They know that you need to crumble in soup or add to gingerbread. At first it was very amusing, even amused. And then I seriously thought about the fact that it is time to introduce children to the culinary art.
I am not a cook by profession and I understand cooking on the basis of various programs that are broadcast on television or online magazines.
Therefore, all that I have learned is slicing of julienne and bechamel sauce. But there are grandmother's recipes that make up my main menu.
When I start cooking, the kids come running with questions about what to eat and in how many minutes. And only my daughter sits down with me and helps me either to cut something, or to mix.
She is my biggest assistant. She has her own little little thing, her own knife, even has her own favorite saucepan. In her 6 years she can freely boil eggs, dumplings and make an ordinary salad of tomatoes and cucumbers.
But besides the girl, I also have boys who also show their interest in the kitchen. But they are experts in baking, especially when it comes to making cookies of various shapes or buns.
What they just do not get up with the dough! They mold all kinds of worms, snails, balls, fantastic birds. And then they are looking forward to when their culinary masterpieces will be baked.
Looking at their desire to be useful to me, I thought about the fact that it was time to teach the children to cook already specific, high-grade dishes. And the impetus was that I recently got sick. And just so it happened that her husband was not at home.
The temperature was so high that I felt dizzy and could not stand at the stove. Then, for the first time, children became adults in my eyes and cooked food for themselves and me. The eldest son, who is 10 years old, under my leadership cooked soup, my daughter went to the store and bought groceries, the middle sons laid the table and fed me sick.
What you need to teach children in the kitchen


After going through small life conflicts, I realized that there is a certain set of skills that I need to teach my children.
one. Children must be able to warm their water, tea.
2 Cook food essentials: eggs, light soup, porridge.
3 Cut bread, chop vegetables for salad.
four. Prepare sandwiches.
In short, feed yourself and your loved ones in the most unexpected life situations.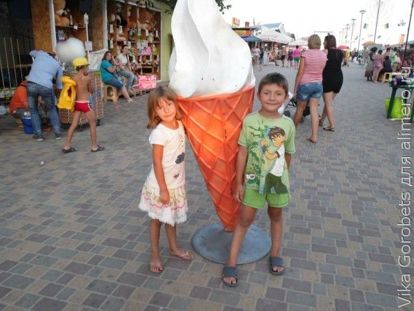 And you teach children to cook their own food. If so, at what age did you start doing this?