Good grades today are not an indicator that a child is doing well at school, because the main thing in school today is not the assessment of the student, but his credibility. Zone! – someone will say and will be almost right. The school is a zone where there are authorities, sixes, observers and performers. Sometimes it gets really scary for our children.
Leadership Groups
The first class is the first days of the educational process, and in school classes, pupils are beginning to form into interest groups, leaving some children outside their own. After a few weeks, one or two leaders begin to form in such groups, who begin to control other members of the group, establishing internal rules in the group, accepting new members and expelling the annoying ones.
This was watched by my familiar teacher, who had just started working at school and was just in a state of shock after several months of work. It is good that she worked with first-graders and only watched the older children, otherwise her nerves could not stand, and she would give up her favorite activity.
In primary classes, only groups and leaders are formed, but after a few years the groups are getting stronger, the leaders get bored and they gladly raise their authority by mocking those who have not joined any group or schoolchildren who are called nerds.
Starting from grades 5-6, children are able to do what they could allow themselves only in grades 10-11: beat up a classmate, pull off panties from an excellent student, break the botan's textbooks, pour kefir into someone else's portfolio, paint someone else's notebook for tests and control etc.
How to protect your child?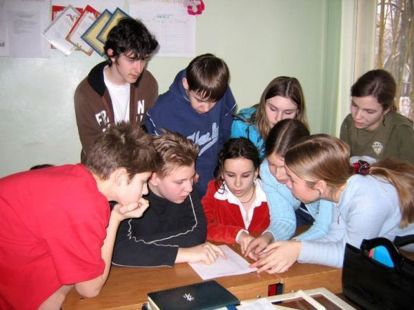 After the next stories of my friend (well, that rarely see each other), it becomes more and more terrible for me to send the child to school. Who knows what will happen to him when he cannot protect himself? Or maybe he will become a leader – which is also not very pleasant for the child's psyche.
Irina (my friend) noticed that one of the surest ways not to become a whipping boy could be building business relations between schoolchildren at school. Until then, while it will be interesting (beneficial) to be friends with the child, no one will touch it.
In no case do not need to be beneficial in material terms. A child may know many interesting facts (cars, pirates, ships, space, mobile phones, computers, etc.) that are not known to peers; familiarity with combat techniques that interest classmates; success in sports (football, basketball, tennis), etc.
All this will help the student to change their knowledge-skills, maintaining a certain popularity, for the opportunity to have their own personal space.
As in business, schoolchildren must be able to negotiate, they must be diplomatic and be able to compromise. This means that since kindergarten one must teach a child to reach his goal not with his fists, but with his mind.
Even Irina noticed that when a child plays in the home yard with older children, diplomatic skills develop faster. Another option – older brothers or sisters, with whom you always need to negotiate, not taking into account their age.
Parental assistance
In a child you need to cultivate confidence and self-love. These feelings should not overly fill the childish essence, but they must be present.
If a child loves himself for good qualities, respects – he is more confident in his words and actions, which means that it is harder to break the leaders who exist in every classroom in the school walls.
Ira, having read Carnegie's books on the development of self-confidence and V. Levi, is a wagon of good luck, trying to help those children who from the first years at school become outcasts and every day grow new complexes in themselves that it will be so difficult to get rid of in the future.
Now my friend reads M.Smit's Self-Confidence Training and recommends reading this book to me and all parents who want to see their children happy even within the school walls.
Happy child in school walls – it sounds like utopia.