I remember my first visit to the gynecologist. I was 14 years old, and a visit to a female doctor was part of the compulsory school medical examination program. About that, gynecologists did not hear anything at that time.
Oh, and fear suffered in front of the office! There was no information. Mothers didn't really tell us anything, and the girls' tales were very much like modern thrillers.
But now times have changed. And the information has become more, and parents in conversations with children have become more open and frank.
How can a modern mother help her daughter psychologically tune in to a doctor's visit for girls only?

Get reliable information
I have a lot of friends who have one or two daughters. They are all already faced with the need to visit the office of a pediatric gynecologist. And once I myself had to accompany my daughter's close relative to this doctor.
In order to psychologically adjust her child correctly before visiting the pediatric gynecologist, the mother herself should get comprehensive information on this issue.
It is believed that the very first examination of a gynecologist takes place immediately after birth, as a rule, in order to determine the sex of the child and to identify outwardly purely externally, if any.
The girl is going to the doctor's house with her mom before going to school. The doctor asks the parent in detail if the preschool child is not experiencing any problems, and can also feel the girl's tummy or look at the rectum.
The next visit most often occurs when a girl turns 10-12 years old. And then it is recommended to visit the gynecologist once every 2-3 years, or if you have any diseases or ailments associated with the sexual sphere.

Customize yourself, and then set up a girl
The emotional state of the mother is quickly transmitted to the daughter. If you yourself are calm and confident, then your girl will not consider the visit to the pediatric gynecologist something out of the ordinary.
To do this, each mom should have a good understanding of some important points.
A visit to a pediatric gynecologist is quite a natural phenomenon, the same as a visit to a dentist or pediatrician.
The reproductive function of the future woman is formed throughout the entire period of maturation of the girl. Therefore, timely identification of problems and their treatment can protect against future serious diseases or infertility.
No actions of the gynecologist can hurt the girl or somehow damage her.
Calmly spoken in accessible language information is much better than any understatement and mystery.
Before you visit the doctor, talk to your daughter, tell her what they will do with her and why, ask her what the girl is afraid or ashamed of. Discharge the atmosphere of the story, you can with a little humor, about personal experience – how most of the fears turned out to be groundless and not confirmed.
As a rule, a pediatric gynecologist can use mirrors only when absolutely necessary, usually without them. But even in these cases, you can not be afraid of pain or damage to the hymen, because for girls are used devices of much smaller sizes.
Particular attention should be paid to the hygiene of the genitals. It is better to help a little girl, and the older one is able to cope with hygienic procedures herself, but she can unobtrusively prompt either literature or sources on the Internet.
And, of course, the girl must be sure that if she turns to her mother for help, she will always help her.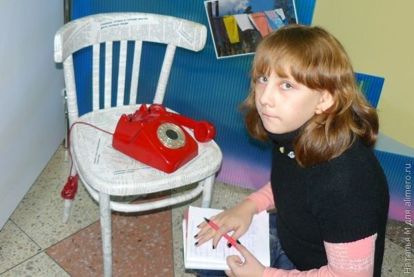 When a visit to a pediatric gynecologist is vital
There are situations when you need to contact a girl doctor before the appointed time. Mom should know about it herself and inform her daughter.
You should definitely visit the office of a pediatric gynecologist with such symptoms:
* If redness of the genital organs, unpleasant itching and burning
* Unusual vaginal discharge, dark color or with an unpleasant odor
* Elevated leukocytes in urine analysis
* If at age 13 is not pubic hair
* Disorders in the menstrual cycle, too heavy or painful menstruation
* If you suspect that the structure of the external genital organs is abnormal
* If after taking antibiotics the microflora is broken
If you quietly and with confidence periodically carry on conversations with the girl on intimate topics, then you will not have problems visiting the pediatric gynecologist, and most importantly – problems with the female health of her daughter.