We are all accustomed to the fact that in museums, at exhibitions we must behave quietly, do not touch anything with our hands. But it turns out that the modern approach to new formats of natural science museums, operating in Europe and America, is finally confidently making its way with us.

Modern exhibition format
And here we are with the children were at this exhibition of the new format. She was dedicated to the Ice Age. First we saw colorful slides, and then a short film about how excavations are going on the banks of the Ural river.
The children imagined how great it is to unearth the skeleton of a mammoth or to find at least some bones! It turns out that expeditions to places that are replete with valuable finds are organized every summer. Even I envied the seekers.
We were told about mammoths, woolly rhinos, saber-toothed tigers and other animals. The children learned about the jaw structure of these large animals. The guide simply fascinated us with her story!
Close acquaintance with the ancient world
And then it was the most interesting. We were given to touch the exhibits with our hands! If the children had not seen such huge teeth that belonged to a mammoth, they would not have believed what huge animals once lived in our area! We also carefully examined the horn of a woolly rhinoceros and other interesting items.
Of course, the children were delighted. They learned what these fascinating sciences are – archeology, biology, history.
Our trip to the ancient world, to the petrified shells and footprints, to the teeth of the mammoth and the trilobites was really interesting. Such an interactive and applied museum, where you can feel the power of ancient animals, see the planet as it was tens and hundreds of thousands of years ago, leaves an indelible mark on the memory of children.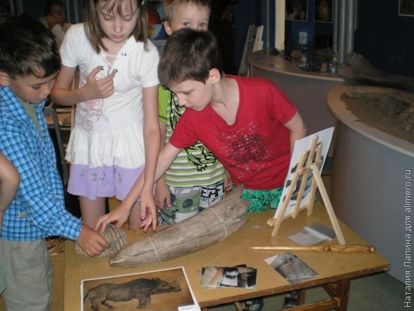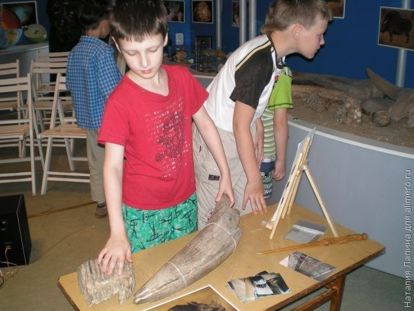 Learn by playing
I think it is very useful and exciting to learn by playing. Nowadays, museums have to compete with the mass entertainment industry, so it is especially important to bring knowledge to children in a fun way.
Tactile impressions are very important for the development of children, and the effect of participation stimulates the imagination. In the future, every child can become a researcher, and the task of adults is to engender interest in everything new and unusual.