Mom, I'm fat! – Perhaps, this phrase is heard by every mother of a teenager girl. And there is a great temptation to tell your beauty that you are not! or vice versa, in passing, it is time to throw you on a diet, dear. Unfortunately, a very small number of parents soberly refers to the volume of their children. And this is a big misfortune, because regardless of which side skew, its presence spoils the child's life and psyche.
I am not a doctor, but, given the family propensity to be overweight, I am afraid to miss this moment in my daughter. Over time, I developed a kind of scale with which I compare.


Kids to school


A newborn baby in my understanding should be plump, knives, knobs in the folds. A child of two or three years old has a rounded body and a small average stock of fat. When my daughter began to sharply stand out knees, shoulder blades and elbows, I ran to the therapist. And it turned out to be right – there was a shortage by weight. I think the baby should be puffy – he has a lot of movement and he needs energy!
But the schoolchildren, according to my observations, are already a little angular. They quickly drawn out, grow. All the fat that was previously available is lost, it goes to the needs of the body. Therefore, if it still looks like Cupid from pictures, it would be better to take him to a doctor for safety. As they say, it is better to be an alarmist.
Adolescence – a time of change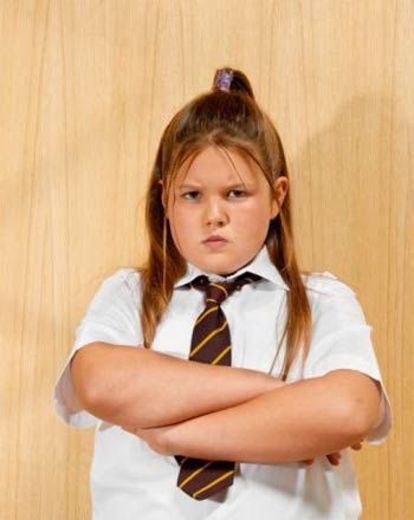 But with teens do not understand what. One becomes thin as a reed, the second – on the contrary, grows fat. Hormones play leapfrog, presenting disgusting surprises to children. It was during my teens that my body crashed. When noticed – it was too late. I gained a dozen kilograms per month. Thanks to my mother, who supported me and helped stabilize the weight. Over time, this happened. My weight was still 1.5 times more than the norm, but at least it did not grow so rapidly – it remained at about the same level for almost 10 years.
On the other hand, I have a family in front of my eyes, where my mother, knowing me very well, is terribly afraid that her daughter will become the same. As a result – in adolescence, when the body needs vitamins and microelements, the girl sits on strict diets. Although, objectively, about any completeness in her case we are not talking. So, teenage chubby. A 12-year-old child is constantly under stress due to the pressure of the mother, which affects learning, communication, and health.
Another friend of mine, with whom we grew up the door to the door, in childhood was a very athletic, lively guy. Having met him 10 years later, I was stunned: he was bigger than me, barely passing through the door. And also all broke into puberty.
Overweight in adolescence


It is in puberty that children become especially cruel. And if a child with a shortfall is perceived more or less adequately due to the established aesthetic norms, then overweight is one of the first reasons for teasing. And it's not just the esetic side of the issue.
Fatty can not perform physical activity along with the rest. And if a physical education teacher makes him concessions because of this – he becomes enemy number one, because he is not like everyone else. In another embodiment, the teacher may dislike the load and it is no better. No one wants to take such a child to the team during the games, he is perceived as a hindrance.
The child is ridiculed while eating, a complex arises. The result – after spending the whole day on a starvation ration, the teenager eats off at home in the evening. Improper eating behavior leads to further aggravation of the situation. And here, as a puzzle, the picture is not a joyful one.
My decision
Maternal eye is not able to analyze hormones, find out blood sugar and make a medical conclusion. We're still moms, not labs. I made a decision on the permanent monitoring of the health of my daughter. Once every six months, I'm sending hormones for a pediatrician from the precinct, monthly sugar tests.
The pediatrician just chuckles, calling me a fanatical mother. But looking at the number of really fat, rather than full children of different ages on our site, I often think that other moms would be well to do so. Because fat, alas, are not healthy.