I walk out of the house, and to meet a girl with black short hair and a slanting long fringe on one eye, clothes are black, the backpack is pink. Greetings, I automatically respond to the greeting and belatedly understand that this is Masha, the teacher's daughter from the third floor. Wow – and did not know immediately.
And a few days later I meet my mother, telling how her daughter did not recognize and understand that she was on a sick topic. Mom starts complaining that she doesn't know what to do with her. The child grew up like a child: cheerful, affectionate, obedient.
There were no problems, my mother always helped, knowing her employment, she studied well, and then she came with this stupid haircut, cutting off her blond blond hair and dyeing them black.
Even worse, he locks himself in his room and doesn't come out, and then his eyes are red, either because he is overly black with his eyes, or he cries often, but he doesn't talk about anything.
It became impossible to talk to her, snorts and leaves, she doesn't want to do anything and her friends are the same, they will write something on ICQ – and at the door right away …
Well, what to say? Adolescence … Only for mom is not a consolation.
She also knows about adolescence and about the adolescent crisis, literate, she read, she works with such people at school, but when she faced her own family, she was confused.
Stereotyping with a teenager will not work

Probably everyone, without exception, parents whose children have gone through the teenager stage, can remember how hard it was, because we get used to act and talk with our children according to the stereotype, and here we are required to do something completely different – stop teaching, pointing and patronizing, or rather , to learn how to do it in a completely different form – through listening and dialogue.
A teenager has points that are crucial for him, which adults, as a rule, do not take seriously. Rather, perceive as a challenge and try to fight.
Appearance – a zone of increased attention of the teenager
The first point is the appearance. For a teenager, it is not an argument that we are all not perfect, for him the shape of a nose, ears or legs can be the subject of the greatest tragedy, because he wants to be more perfect and better than others.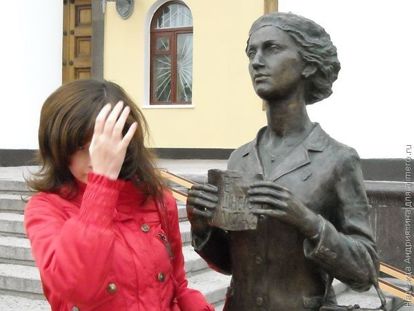 The desire to be like everything in its environment and to be better than everything clashes. If the parents took a modified look at bayonets or at least expressed disapproval (as in the case of the neighbor girl who took on the look of emo), they immediately become on the other side of the barricades.
In such cases, even if it is jarred on you, angry, it is better not to try to scold or command: I should not see this anymore, but to express my feelings, to say that you were surprised, it was a surprise that you were even confused, and then you can be unobtrusive try to find out from a teenager how attractive it is to him, what it means to him.
Dialogue – the best way to convince
I remember two dialogues. One with his own son, when he was going to pierce his ear and put the earring on (12 years ago, piercing as such was not in vogue, and men's earrings for various reasons appeared).
He told me that he wanted to do this, I told him that the choice would be his, but I would like him to make it consciously. I asked him to imagine how people would react to him.
And I also told him: For years, only women wore earrings in their ears, this became a habit. Imagine me smoking a pipe … – you will also look something like this with an earring in your ears for most people around you. In addition, gay men traditionally wear earrings, and for most people there is no difference in which ear it is to draw their own conclusions.
I do not know how the son made the decision and whether my words were an argument, but the earring did not appear in his ear.


The second dialogue was with the girl who was brought to me as a psychologist. She was expelled from class by the class teacher for her defiant appearance. The view was really strange.
On jeans, some phrases in English were written in dark blue marker (she could not read, she taught German at one time), blue lipstick on her lips, nails also painted blue, plus large chains of ferrous metal around her neck and wrist.
She was indignant at the teacher and claimed that she would never change her appearance. I asked her: Do you seem to like the blue color ?, and she confirmed it. I asked her to think about what blue is associated with, and she called the words: sea, peace, tranquility.
I told her that there is not one more word in this series, but it sounds unpleasant for many – the dead man. After all, the dead man has bluish skin, and his lips and nails are blue.
Imagine, "I said," your teacher might not even understand why your appearance causes such aversion in her, but apparently she unconsciously associated her with the deceased, therefore she was indignant.
For the girl, my words were a shock to discover, and this gave us the opportunity to talk about other ways to attract attention, which she lacked so much.
Perhaps these two examples may not be useful in a real situation with your own teenage child, because it is impossible to transfer one experience to a completely different situation, but I brought them in order to show that dialogue is possible.
Often, adolescents are trying to do something, focusing on someone else's example, not fully aware of the significance of what they copy. A normal dialogue without shouting and swearing provides more opportunities than a ban.
Well, if, contrary to your arguments, the son or daughter still chose what you do not like, give them the opportunity to make this choice (this does not apply to situations with a threat of life or violation of the law), because, growing up, few people remain in the form of emo, goth, punk, etc.
Appearance is just one aspect that is significant for a teenager, we can talk about the rest later.


Natasha, the interest of most teenagers falls to school, but if it drops sharply, you need to try to understand the reasons, but they are always different.
I will give a few examples.
A boy until 9th ​​grade studied on the same five, won the Olympiads and was considered an asterisk from teachers, in the 10th grade already in the first quarter began to receive twos, and although at first his teachers were forgiven by former merit, then they sounded the alarm because there was a risk of quarterly twos .
When I talked to him, it turned out that his success in school became customary for his parents, they did not praise him for victories, did not ask how he was doing, knowing that there were permanent fives, and when he began to get two, they suddenly showed attention, they became interested in him, but not in the way he wanted. They began to scold him without finding out the reasons; then he wanted to make his parents out of spite: I would be bad so that you would feel that you are bad parents too.
The second story is somewhat similar, but the reason is completely different. The boy stuttered slightly. Once I argued in class with a teacher, even put her in a foolish position, showing that she was not fully competent in any matter. She didn't find anything better than to say: You learn to talk first, as you should, and then you will be clever here. Since for a guy his stuttering was a serious problem, these words, for the entire class, broke the ground from under his feet. He stopped responding to the lessons altogether. He was silent and did not say anything when asked.
In these situations, the fact that adults could not find out the reason was scary, but only pressed with their complaints. It is good that there were those who persuaded to go to a psychologist, and the guys agreed. Otherwise, both situations could end badly.
Another of the most common reasons – interest in the party. Now she is not even the yard, as it was before, and most often on the Internet, on social networks. Purposeless chatting takes a lot of time, while emotionally pleasant. When a teenager remembers the lessons, there is neither strength nor time, I want to sleep. Well, the more unlearned lessons, the less understanding of the material further. Snowball begins to grow.
In general, from us from adults, it is required to look for opportunities to talk with your own child so that he has an understanding that parents are not enemies, and in no case can they solve their problems for them. To support – yes, to say that everyone is wrong and we must be able to correct mistakes – yes, but just not do it for them, otherwise he will not be able to grow up and grow up too, no matter how strange it may sound (people come to me at the reception years that preserved children's reactions and stereotypes)

Did I say that he is already an adult? And with his appearance he did and does what he wants, neither I nor my father said a single word to him even once.
Probably it is generally difficult to find just liberal parents like us. )) Maybe because we are both from the artistic environment and we are not accustomed to freaks, freaks and any deviations from generally accepted norms. We ourselves were and are such. ))
I agree with you on all points, but … Here's what to do if there is joint reasoning, making a decision, too, but its implementation is absent.
That is, my son knows that not to make the bed, not to do exercises and not to brush his teeth for the night is bad for him, but to do that is too lazy, and he often does not.
It hurts the stomach – continues to drink cola and eat fast food, although he knows very well that it is harmful to him and quite possibly the night will be spent on the toilet. Now he runs to doctors, he is being tested, ha, he still has a probe, about the virtues of which he has no idea.
There were plenty of calm discussions, but in principle I was a man of restraint. Exhortations too. Now I don't say a word to him, giving him the right to stuff cones himself.
He came home with friends, and in the room a mess. He is ashamed, he complains to me, but why did not you remove? And I answered: and this is your room, in which you asked me not to go in and not to impose your order. And I am NOT obliged to clean your room. I won't say that it worked perfectly or the complaints stopped, but I don't want and will not remove any d ***** for the 17 years old lazy.
He now has a period of complete denial of everything that I did not tell him. He may reason with me, he may even agree, he may even do things useful for himself, but if he is too lazy, he will not do it. And if I show even the slightest interest – believe me, I'm not used to raising my son's voice, I can only ask, – he will do everything in the worst way for himself and will carefully study my reaction – not touched.
I can do nothing in this situation. Is that to learn from him full pofigizmu. )
Did I make an impression of a stubborn parent who stupidly stands her ground? ))