Yesterday in our family there was one very significant event for all its members – the eldest daughter became the owner of a mobile phone.
Perhaps one of you will be surprised: They say that there is such a supernatural. , and will be absolutely right. But my husband and I went to this decision for a long time – for some reason, we tried all the time to delay the moment of solemn presentation of our own telephone to her.
Is it necessary to have a mobile phone for a child?
Dasha told us about her desire to have her own phone last year, as a student of the first class. Naturally, we said that we would not be in a hurry with this and think together, how much our schoolgirl needs her.
It so happened that we put our daughter together at school: first, I took her directly to the classroom for several months, then we started planting her at the school gates, and over time they began to take the intersection nearest the school – my daughter just had to walk to the gate school building.
True, the last couple of weeks, if time permits, we land it in such a way that she herself crosses the road and has time to reach the school before the bell.
Grandpa or grandmother always take the daughter from school – they go straight to the class and accompany the daughter to their home. As you can see, in this situation, there was no special need for the phone, and it could not be. Husband promised daughter phone in fourth grade.
What has changed our decision.
But recently, my daughter began to express a desire to go from school to grandparents on her own – she reaches the intersection with her friends, and then, going over the roadway (I'm even scared to write about it), in 3-4 minutes comes to my house parents.
Well, this should be the ideal. But in fact, my mother is sitting by the window for half an hour, looking for her granddaughter from school – the lessons ended at 13.10 and in theory at 13.20-13.25 Dasha should already appear in sight. And it is not there.
Mom is worried at home, I go crazy at work, I call the teacher – she says – she left … And then, mentally, I repeatedly repeated to myself: But there would be a telephone.
But it was not I who voiced these thoughts out loud, but my husband, when I brought home a new starter pack.
What kind of device to choose for a girl – new or not.
Of course, the daughter repeatedly told me that she wanted a phone like mys – a touchscreen and a big screen. I occasionally asked her questions about how many children have phones in her class and which ones.
It turned out that almost all of her classmates go to school with mobile phones and almost all with push-buttons – only two of them have to carry a finger on them. I was very reassured by this, and we already confidently inserted the SIM card into the device we chose – my old but very cute Samsung slider … But so far Dasha didn't say anything.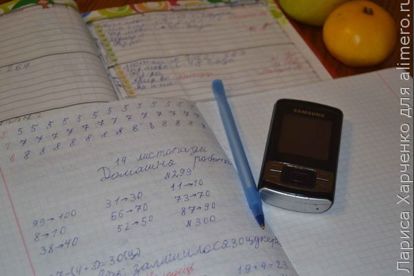 How to please the child.
My husband and I prudently put the future daughter's number into our phones, recorded her name and installed a photo of our girl on a new contact. My daughter was sitting drawing, and I accidentally left my phone on her desk.
The husband dialed my number from Dasha's phone – her photo and name naturally appeared on the screen, music started to play. She first took it in her hands and wanted to carry it to me, and then she thought about it and began to smile! So cool to smile.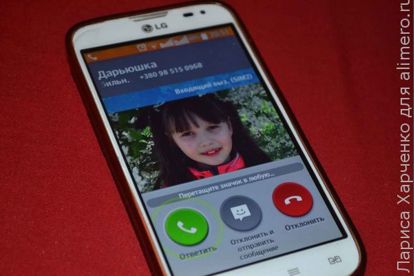 What else is needed for happiness?
To say that a child is happy is to say nothing. She immediately called back (she knew how to use it) to her grandparents (the contacts were kept there) and proudly announced that it was her number to be recorded.
We told her that it was impossible to use the phone at the lessons, and you could only call during breaks or after the lessons. As a result, she called all her relatives both at each break and after the lessons.
The child has joy and pride, but for me it became so much calmer that at any necessary moment I can call her back and ask her how it is … Especially on the way home.