Before the beginning of the school year at the parent meeting, the teacher told us that the future first grader should not be able to read – this should be taught at school (not without parental participation, of course). By the end of the second quarter of the class, they hung a list with the results of testing the reading equipment, and, frankly speaking, I was surprised by the difference in numbers. The minimum result was 10 words per minute, and the maximum 104!
We take learning seriously, so one of my tasks was to teach my daughter to read quickly and correctly. I would like to share my methods in today's article.
Is it boring to read the primer? No problem, you can read anything – books, magazines, but at least instructions for household appliances. I usually choose books with my daughter – at one time we had a love for fairies, then for two months we only read Georgian folk tales, and now we've switched to an encyclopedia about everything.
On the advice of our teacher, we read every day. Regardless of the availability of homework, weekends or holidays. Ten minutes a day is enough. I put a timer, go about my business at the stove, and at this time my daughter reads. This is our daily evening tradition, which can not be skipped.
While reading you can also play. Do not believe? We have several such entertainment. You can read one by one – one word (or sentence) is a child, and the second is mother.
You can read for a while, while striving for maximum results. As practice shows, the spirit of excitement immediately wakes up in children.
You can still read, while changing the intonation of the voice. You can combine the sentences and motive of your favorite song. There are lots of options, the main thing is to read!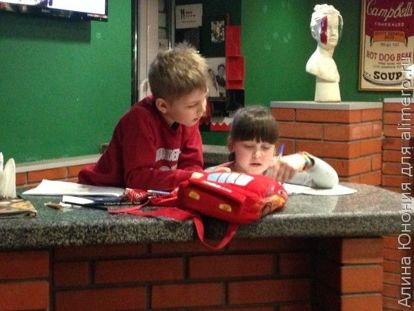 In winter, we had problems with spelling – my daughter suddenly began to write carelessly and carelessly. And what a coincidence – she liked one toy. Well, the condition is simple: a completely written out 24-page notebook = a toy. We decided to rewrite our favorite tale at that time. As the saying goes, the wolves are fed and the sheep are safe.
This trick also sometimes works with reading. Of course, I don't intend to buy toys every time, but the incentive may well be playing or watching a cartoon.
This method we decided to use in the classroom. The teacher announced to the children that only that first class, whose reading technique will be the highest, will go on a tour. Children already understand that the result of the team depends on each participant and they train to read even at recess.
The main principle in all this is practice. Without daily practice, nothing happens. We try to read everywhere – ads in the elevator, advertising billboards on the way, price tags in supermarkets and everything that surrounds us.
An additional incentive for the daughter is to communicate with more adult girlfriends. Sometimes they do their homework together, and every time I notice that this communication is beneficial – it tends to be at their level.
How do you teach children to read quickly? Share the secrets!