Usually, when they talk about the need to teach a child to give change, it is a question of kindergarten age or preschool children. But I want to talk about older children – teenagers.
Puberty is a time when hormones play, the opinion of peers is put above all, and this is the very moment when it is most likely to break.
At school, in the courtyard, there is a real struggle for survival, and the weak are milled, as if in a stone-crushing apparatus. Humiliation, beatings – almost everyday reality of a teenager, which adults may not know until the very end.
What parents don't know
Few of the children will tell their parents that he was humiliated at school. And not only parents – adults in general. Mostly because we, adults, just brush aside the general phrases like I don't like this school or I feel bad there. The fact that a child is insulted or worse is done, he himself almost never admits.
When I was in school, I had the opportunity to experience what teenage cruelty is. I was a calm, self-contained child, and tried not to contact anyone. For the whole school life, physical force was used only twice – in the second and seventh grade.
In elementary school, we had an amazing teacher, the memory of which I will always keep in my heart. She was a teacher from god. And there was a boy from a big, but, alas, dysfunctional family.
Once, when the teacher was not in the classroom (and indeed almost no one was), this petty little bastard decided that cutting her classmate's hair was ridiculous. Knife-butterfly flashed, and the girl with shaking knees tried to hide somewhere. But there was nowhere to hide.
I do not remember how I was between them – a head taller than this petty nonentity. My brother was engaged in karate and practiced techniques on me as the only available sparring partner. Grabbing his wrist and squeezing hard was enough to make the boy cry. I was guilty – because no one saw what really happened. The girl from fright could not really say anything, but I did not want to make excuses.
The second time I hit a classmate, returning a compliment to him. A month before, he thought it was ridiculous to hit me, who had returned to school after the operation, in the stomach. More than anything, at that moment I was afraid that the seam would open, I would again go to the hospital, I would not have time to pass the exams and stay for the second year.
All the rest of the time I silently collected notebooks, transplanted, washed textbooks of eggs, secretly bought new ones so that no one knew what happened. She cut her hair, because chewing gum out of them was impossible. She came back from school in a snowstorm in her shoes, because her shoes were flooded with water. There was a lot of things – I was silent.
Now, when quite a lot of time has passed, I often still just leave the conflict. Most often, but not always. Borders that other people are not allowed to cross have become much clearer. And slowly I think about how to prepare my child for a difficult school life.
Why do people tolerate
The main reason why children, and adults, tolerate aggression in their favor is insecurity.
Uncertainty in the correctness, opportunities, skills. Therefore, I try to work with the child in all these areas.
Self-confidence is the basis of not only confrontation with your peers, but also life success in general. In my house, such words are forbidden as I can't, it's impossible, I don't know how. No matter what – anyone is capable of anything, if he tries and does not give up. I repeat a hundred times a day: you can, you will succeed, try.
Confidence in support – the second point, which is no less important. If a child is not sure that he will be supported, he will not be able to resist aggression. Whatever my daughter does, she is always right. On the street, in public – she does everything right, even if it is not. Of course, at home we will try to discuss what happened and come up with other, more acceptable options for solving the issue, but this will be later – and where we and she will be.
My child knows that I am always ready to protect her, and therefore is not afraid of the consequences. She also knows that I will not forgive the bust – so she tries to keep herself within the limits.
Very soon the daughter will be five years old – it is from this age that they take aikido in our city. This will be the third brick in the ability to stand up for themselves.
Confidence in their movements is very important. I chose precisely Aikido, because this martial art allows you to overcome the enemy, regardless of his weight, height and strength. Moreover, aikido is an art of defense, not applicable to attack. Therefore, I can be sure that my child will not become an aggressor himself.
And finally, the last skill that a modern teenager should perfectly master is the ability to respond. If a person answers correctly, it is likely that they simply will not be contacted. That is why now I am learning verbal aikido – a method that allows me to answer adequately, without sliding down to the level of the opponent.
Of course, my child is still too small to fully absorb this knowledge, but the water wears away the stone.
It so happened that as a guinea pig, fate sent me a 15-year-old girl with a rather difficult fate. At the age of 12, her mother threw her out of the house for free bread, of course, that the girl was immediately disliked in the school yard. She does not have the opportunity to dress stylishly, she has an old broken phone, there is no one to stand up for her – in the eyes of her peers she is an ideal target.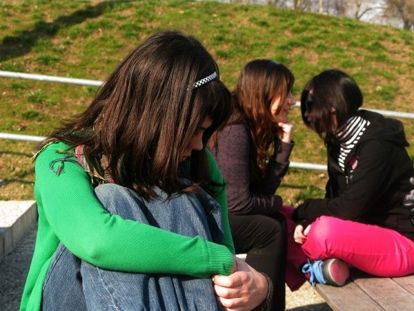 Alas, but all that I can help her now is to support and sometimes give a job (she sits with my daughter from time to time). We talk a lot and about how to resist the surrounding aggression – too.
During my acquaintance, I taught her several simple blocks, twisting the attacker's hand and correctly twisting my grip. She raised a little self-esteem, having convinced that in everything that happened, there is no her fault.
Now I am trying to convince her to go to a consultation with social lawyers – her family is not at all asocial (a strong middle class), so the behavior of the mother is completely incomprehensible to me.
Looking at this child and the changes that occur to her during our experiment, I understand that the self-defense system that I have built really works.
So, I hope it will be useful to some of you.