I do not know how anyone, but my daughter's first days at school found tremendous disorganization and loss. After two weeks of visits, we were looking for a jacket, shorts, a t-shirt, a book on mathematics and a diary. What will be next?
So, in one of the wonderful first school days, I come for a baby for a baby and find that there is no school uniform jacket. We searched the entire class, looked into the cabinets and under the desks, but he never showed up. To the question where her daughter could leave him, she answers meaningfully. I do not know.
Sorry for the jacket was also because I bought is not the cheapest. To release the child for half a day in synthetic is somehow not quite right, in my opinion. At home, it was discovered that there was still a lack of T-shirts and shorts, which I had given her to change into a dressing bag.
To say that I was upset – to say nothing. Getting from the daughter what, how and why was impossible. She remembered nothing and knew nothing. My friend, the mother of an older child in the same school, reassured. They also lost a lot, but everything was.
Oddly enough, but the jacket was found the next day in a chair. It turned out that some boy had mistakenly put on his daughter's jacket. Noticed it when they came to pick him up. Later we were not found immediately.
The shorts and T-shirt are back four days later. When they began to collect another child for physical education, there were extra things in the bag – ours. About the same thing happened with the diary and the book. Someone grabbed by mistake, and a day later returned to the teacher.
In general, on the one hand, it reassures that the loss of her daughter is not her characteristic, but in principle the children of her age. But on the other hand, I want to do something so that it does not last until the upper classes.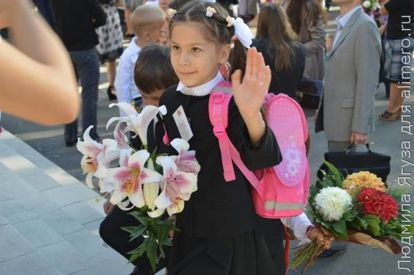 What i do


I try to organize it on the independent collection of the portfolio. While helping her hard. She reads the schedule, brings books and notebooks, and I put them in a backpack. Itself while it does not want to do.
At home I make sure she puts things in one place and looked for them in the same place. After training, I do not help her dress and gather. It happens that jumps out of the locker room with an armful of crumpled things and interchangeable shoes. We come back, and she puts everything in places, changes shoes.
So far, nothing else can come up with. Maybe someone has the experience of educating self-organization in a student? Share, please.