The main vocation of the school uniform is to visually equalize schoolchildren. To avoid differences in clothing among children from families of different incomes. Yes, and care for school uniforms a little easier than regular clothes.
I remember when I wore a school dress and an apron, my grandmother found something to distinguish me – instead of the usual fabric, I sew crocheted collars and cuffs. But one of my classmates wore instead of the usual cotton apron of lace fabric.
How to diversify the school clothes of the child so as to give him some personality? This is my article today.
In terms of shoes, we have no special requirements. It should be closed and with a back (that is, not Vietnamese and not slippers). Fine, I thought, and I got daughters gorgeous tiffany-colored shoes with a bright pink flower.
Why not? First, these shoes are closed and have a backdrop. Secondly, the girl should wear beautiful shoes, and the fact that she is bright, so it does not distract from the educational process.
And as a replacement shoe for the cold, I already have two pairs of bright ballet flats in store – pink and purple.
Our clothes should be blue and classic cut. Again, a great field for fantasy. First, the blue color has several shades (blue, azure, cobalt, cornflower, etc.).
And secondly, even a classic cut has a lot of options. In addition to the classic pleated skirt, you can buy a skirt with a yoke, pencil skirt, tulip skirt, sun skirt, etc.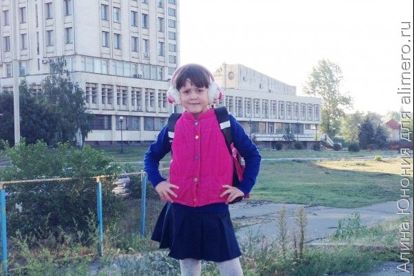 And we bought a daughter sundress. We were hardly able to choose from all the variety – with zippers, buttons, narrow and wide straps, etc.
Here we have not managed to fully adhere to the rules. The jacket I ordered my daughter in a British shop is a little late with delivery, so we temporarily replace blue with gray-blue and dark brown.
However, even dull blue can be varied with beautiful brooch or original buttons. And the jacket can be replaced with a knitted cardigan.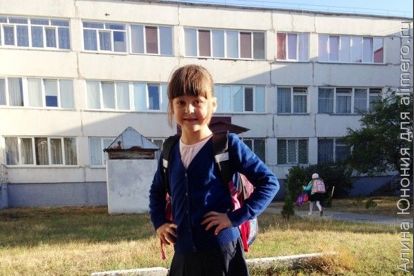 It is also possible and necessary for the child to make original hairstyles (within the strictness of the school, of course), to select moderately bright tights. And the white top is not only a classic white shirt. There are also snow-white sweaters, polo with long and short sleeves, classic plain t-shirts with long sleeves from the basic collections. In addition, light is not only white. These are light shades of pink, blue, gray, yellow, etc.
And the daughter in the class has a boy who wears glasses. He has several of them, and they all have so original rims that they involuntarily stare their eyes. Another classmate is always very stylish and beautifully tucks the bottom of the trousers and the sleeves on the shirts, also original.
How do you add variety to school clothes? Do you want to somehow highlight the child with her?