In the previous article I wrote about our acquaintance with roller skating. The daughter is delighted with this kind of leisure, so on the day of St. Nicholas she will receive new videos as a gift. Now I just select the most suitable options for us. I hope my selection criteria will help you make a good purchase.
Unlike regular shoes, in the rollers there is an opportunity to adjust the size, so one pair is enough for several seasons. When purchasing it is important to check whether the foot will be uncomfortable due to the increase in size.
In most models, the toe moves forward, and rightly so. But if the heel moves, the child will shift the center of gravity, which is not very good. You also need to check whether the insoles and protrusions appear on the insole with increasing size.
The correct rollers, like any other children's shoes, should be comfortable and securely fix the foot with the ankle. The foot should not fall inside or dangle, the rollers should not press, rub and hurt.
In the store it is better to ask the seller to properly lace up the roller skates, then let the child ride in them.
Rollers with plastic wheels, which can be heard from afar, can hardly be found anywhere. Usually the wheels are made of rubber. Specify in advance whether it will be possible to replace them if necessary.
Many children when choosing videos are guided only by their appearance. And they are guaranteed to prefer the model with the image of their beloved character to other models even with better roller skates.
Of course, I want it to be beautiful, but I have already managed to explain to my daughter that it is not color that is important, but comfort and the quality of things.
Rollerblade and K2 rollers are most popular with us, they have models for both regular users and professionals. In addition, the service centers of these manufacturers can always contact about the repair and purchase of spare parts.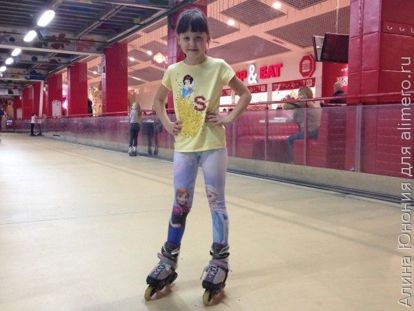 Continuing the previous paragraph, it is obvious that good videos can not be cheap. Of course, you can buy videos and 1500r. (500 UAH), but they are unlikely to last longer than one season. In addition, a lot depends on the quality of rubber wheels, bearings. Sooner or later, the child will want to drive faster, perform some tricks, and on skates of low quality this is not always possible.
And given the fact that the purchase will serve more than one season, I think it is right not to be stingy and get a quality model from a reputable manufacturer. After all, this is an investment for several years.
And what criteria when choosing videos for a child are you guided by?