If you thought that I would now teach you how to decipher the drawings of your children, then you were mistaken. The topic of the article confused you. I want to share with you an interesting experiment that our psychologists conducted among students in grade 1, and we, the parents, were invited to participate.
Experiment with pictures
The essence of the experiment was that according to the drawings of their children, the parents would talk about the problems that the children would express through paints and shapes on paper. Well, or make sure that their children are happy and do not need anything.
The children were put at the school desks, the parents were taken outside the class territory. Gave kiddies 20 minutes. According to psychologists, this is precisely the time for which the child will be able to express his most intimate desire.
And the process of creation began. It was audible as children's noses sniffle and pencil runs across the paper. Someone approached the process with full responsibility, and someone just indulged, but this is also the result.
And here is the moment of truth. We distributed pictures of our children. It's a pity I didn't have a drawing of my son. I was depicted on it, but I looked like a girl from the movie Call. Black long hair covered my face, hands were spread in different directions, and growth went to the sky. I was terrified, to be honest. I could not understand why my child sees me like this.
Parents began to take turns to approach psychologists and show pictures of their children. And immediately told about what they think about their creations. In some drawings, people (families) were drawn, in others a house with trees, I also noticed cars, flowers and abstraction.
What do children's drawings say
I learned that children draw themselves in the family when they are very happy and safe, when various objects prevail in the drawing – these can be children's dreams. Large drawings show good self-esteem, while small ones speak of children's fears and complexes. I learned all this from a psychologist.
When my turn came, I expressed my opinion about the drawing of my son. It seemed to me that he was afraid to say something to me, and therefore he drew me with hair laid on my face. But everything turned out wrong.
They explained to me that the child has the most important friend in life – the mother, who is very gentle and loving (this means loose hair). And the fact that he covered their face with them testifies to the fact that mother's beauty is not needed by everyone, it remains only for him, the most beloved son. And besides me, he did not draw any of the family members. This fact suggests that the authority for him is mother.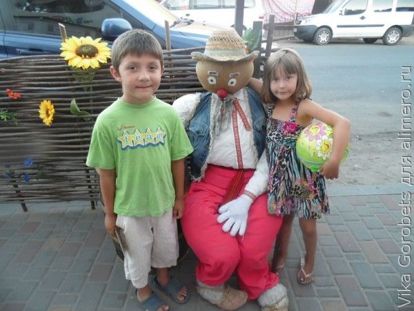 All left satisfied after the experiment. He showed us that parents need to be more attentive to their children, especially if they are painting. After all, through drawings, children express what they cannot say in words. And if we are more attentive, we will be able to understand and help your child if he needs it. Drawing is not a mood, it is a state of mind. So let's go there together!
What do your children draw? Can you decipher their creations?