This question has always interested me. Even then, when my children were just about to become students. And now I ran into him closely, and that's what happened.
And it turned out what I was completely unprepared for. All my children were in different schools! And I was horrified by horror – how can I dissolve all the kids in schools by 8 am alone!
The eldest son is studying in the 4th grade at the mathematical lyceum. This lyceum is located 30 minutes away by shuttle bus. The middle son studies not far from this lyceum, practically a gate to the gate. And I also have two six-year-olds, who at 8 am need to be gathered for preschool. And how can you do everything alone? My husband can not help me. At this time he is at work.
Even before the start of classes, I thought about, maybe all children should be brought into one school? The one that is closer. But then, after speculating, I realized that this would not solve the problems, but create new ones.
A new school, a new class is a trauma for a child. At the age of 10 it is difficult to re-create a reputation for yourself, to find your place. And the middle son is so in love with his teacher that I cannot deprive him of communication with her.
Kids, go to school yourself!
And then I risked letting them go to school alone. I had such attempts last year too, but they were sporadic. And this year, she completely gave the children independence.
In the morning I escort them to the shuttle bus, supervise the arrival in school, a couple of calls after school and a meeting at home. The boys cope. The eldest son brings his brother to class, and then he runs to his classes. And I am already leading babies to preschool classes. So, I let my children go to school on their own from the age of 9. But this is taking into account the fact that the school is located almost at the other end of the city.
But next to our house there is another school where I have already enrolled the minor ones. She is 2 blocks from our house. In fact, the course is 5 minutes, but you need to cross the road with a traffic light.
Of course, I will try to drive children to school in the first class, but I think that this will be the end of it. The school can be seen from the window of my house, the road is not so busy with cars, my children are very independent and responsible. All the kids from our yard, even from the first grade, run to the school themselves. Of course, under the telephone supervision of parents – this factor is very important.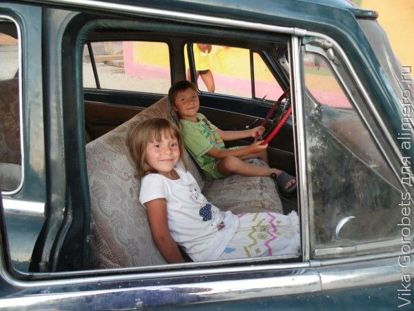 And yet, at what age can children be allowed to go to school alone? How to determine the readiness of the child to move independently?
I think it's worth weighing everything in the complex. After all, children are different. Some people at the age of 7 can tear themselves away from her mother's skirt, while others at 10 cannot independently cross the road to the green light and need parental care. The location of the school, mother's opportunities, children's desires – all these factors affect how much a child can go to school in the morning.
You agree with me?