Imagine such a situation. Your child plays on the street or goes out of school, and a stranger comes up to him and says in a very convincing, sad voice: Baby, just do not worry, but your mother is now in the hospital, and she really asked you to take her to the grandmother.
A frightened child agrees and goes with a stranger. And then anything can happen, anything … Script for action film? Not only. A similar story may well happen in life.

We taught him!
Of course, all parents from early childhood say to children: never go anywhere with a stranger, do not open the apartment door to strangers, do not sit in the car with them, and so on. And if something serious, first of all call, good, now almost everyone has a mobile.
Well, if the phone does not respond: out of range or is the battery discharged? And no one is around, who would suggest how to act? Run to the neighbors or friends? But the stranger says he has no time.
The situation is quite plausible, and it would be good to have some kind of tool that will save your child from danger.
A family password will help!
Once upon a time I read in an encyclopedia for a child about the family password, and I really liked this idea. Simple and effective!
A family comes up with a word or phrase that only family members will know and no one else. It is advisable to fill the password with some special meaning, close only to the children and you, so that no stranger can crack it, i.e. to guess.
For example, we had the password summer in the Angles. The phrase for a stranger is completely meaningless. And it's impossible to guess by ear that the word Angles with a capital letter!
Only close people knew that Angles is the village where my grandmother lived, and when I was little, I spent every summer there.
The child should know that if the mother really sent this person after him, then she should give him the password. And if a stranger refuses to say the password – says that he forgot it on the way or that his mother forgot to say – then you can't trust him.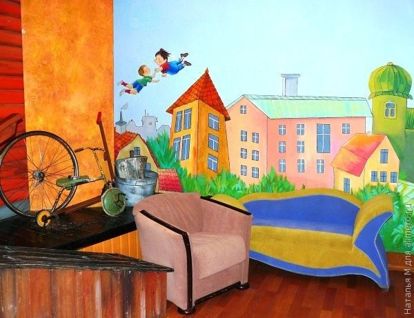 You can also come up with a complicated version of the password in the form: question – answer. Suppose a child asks a question: Uncle, and where can I find Carlson? Of course, he should not make big eyes, and calmly answer: In the library of the name of Ostrovsky.
The fact is that in the central children's library. The scenery of the Ostrovsky city of Minsk was made, imitating a town in which, according to a fairy tale, the Kid and Carlson lived.
For the sake of all the same security, children should keep their mouths shut and no one should blurt out the password to anyone – even the most beautiful friends. This is just your family secret!
From time to time the password should be changed. And children periodically ask what your password is now to make sure that they themselves have not forgotten it.