The school year is approaching, and I thought about marking my daughter's things. After all, it will be very sad if something is lost or confused. In addition, the first class is a new building, a territory, a classroom. Children at first can be difficult to navigate.
A friend of mine told me that her first-grader son had been walking in a foreign sports suit for a week and had not even noticed it. It's just that in the 45 minutes of a lesson the children are so tired of sitting in one place that afterwards there is no time for hearing about things, they would just rather get out of the classroom for a break.
The fact that you need to sign textbooks and notebooks is not discussed. But besides this, I plan to sign the rest of the stationery: pencil case, paints, albums, etc. After all, it is likely that some of the other children will be the same.
Due to the fact that most school clothes are new, a daughter may not have time to remember her things. Yes, and the lost jackets, I know firsthand. One can only imagine what is going on in the locker rooms before and after physical education classes, because you need to change clothes quickly, there may not be enough time to think about things.
I have a special attitude to things, and I would not want to part with them, so I am definitely behind the tags.
Sportswear in kindergarten I marked with the usual embroidery, just the form was sewn to order, so there were no tags. But there are ways and simpler.
For example, most outerwear has for these purposes special tags tags. To the inscription is not erased during washing, you need to use a conventional marker for CDs. You can, of course, embroider the child's name on each item, but this will take time and some skills.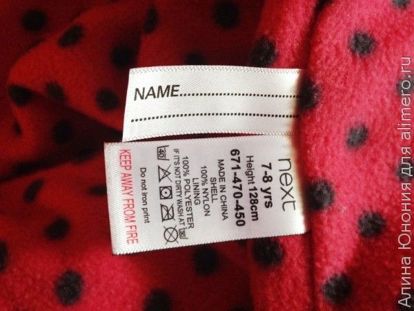 There is another way, which, however, is a bit costly. Some firms now specialize in special thermo glues for things. It's simple – you just need to send the text and then get a ready-made set of stickers. Standard text is the name, surname and contact phone number of the owner of the things or his parents. You can even choose a special font and label design, every whim for your money!
There are several options – ordinary paper stickers that are suitable for stationery and textbooks and thermal stickers for clothing (glued with a hot iron).
Agree, an excellent way out for those who want to avoid confusion with things. By the way, the cost of a set of thermo-stickers (30 pieces) about 150 rubles (50 UAH) is quite affordable, I think.
But in some schools have solved this problem differently. When tailoring a form to order tags are sewn into it already with the applied name of the owner. In our school, however, so far there is no such service.
Do you somehow mark children's things? How?