School is a society in miniature. All relationships accepted in the adult world are reflected in the behavior of children. But since they are less able to hypocrite, adapt and smooth sharp corners, their team often exists according to the laws of the jungle.
A school class is such a small flock. With your leader or leaders. With obligatory outcasts, which everyone kicks and offends: one must assert oneself for someone. Well, of course, with the bulk, in general, quite good children, who simply try not to stand out, because it is more convenient for them.
There was a stalemate in the class of my middle daughter, when there is a person who opposed himself to everyone, he is not afraid of anyone: neither children, nor parents, nor the school administration. And it was he who became an outcast in the children's team.
Remove Adaryan!


– Yes, what is it! How much can you endure this Adaryan!
– Why should our children suffer?
For the fifth year, we cannot reach a consensus on what can be done and how to influence Vova Adaryan and his parents.
Actually, it seems useless to influence parents. Apparently, they don't give a damn about their child. The stepfather does not have his authority, and the mother missed her son at the very moment when she remarried. Vova just went to the first class.
Mother, fascinated by the creation of a new family, then forgot about it completely, then spoiled beyond measure. And he wanted stable attention and, as I understand it, he was terribly jealous.
This resulted in the common syndrome of a difficult child, which has become a feature of behavior. The protracted protest went into a war against all.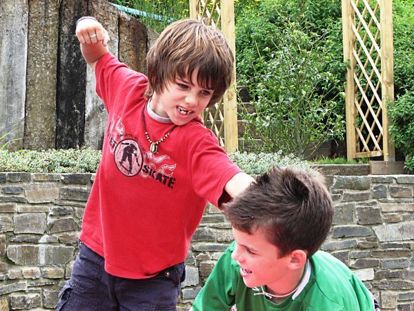 And now there is practically no leverage. He beats children, both boys and girls, when they try to intervene. Of course, he does not associate with those from whom he can specifically fly, although he is not afraid to fight – he is used to.
Every day we have a new incident with Adaryan. For example, he can, brazenly looking into the teacher's eyes, sit and knock on the desk with a ruler, tearing down a lesson.
Neither the director nor the head teacher is afraid of him, because he had long realized that they could not do anything to him. And parents have no authority. He despises the stepfather, and the mother can strike, despite the fact that she is expecting a third child.
By the way, he beats children professionally. Foot between the legs, and then all that horrible. Daddies talked to him heart to heart, despite the director's warning. They called for a joint meeting with their parents. And he screams through tears: I hate you!
Applied to the RHO, with a request to take action to the parents. As a result, our hero came to school after a couple of days with a fingal and a bruise in the eye.
Boycott Adaryan


All this happens in front of children. And at that moment, when they felt the attitude of their parents to the situation, they instantly all joined together and gave him a boycott, almost persecution. A group of Adaryan boycott! Appeared in contact, in which many were able to take a soul and express themselves.
The conclusion in this story will not be, it is rather a sketch on the topic.
Last year, my husband also talked to Adaryan. The result was a randomly torn (shook heavily by the shoulders) jacket, and the fact that he no longer fits his daughter.
Now the situation has changed. On the horizon, a boarding school for difficult children loomed.
Now we need a different conversation. There is an urgent need not to push, but to get through. To break through the reinforced concrete wall to the little boy who needs love so much that he tries to hide it with all his might.