For many children, music education is an integral part of childhood. For me, it was basically a black streak of life. And just recently I was surprised to find that it is not always the case that children can really enjoy this training.
My relationship with music
I signed up for the violin on my own initiative. The teacher, who came to our class, paid a visit home and said that I was quite fit. My grandfather, who played three instruments, gave me a tiny violin. I started learning and I was interested.
Then we moved to another area of ​​the city, changed the school, the teacher, and sad days stretched. The teacher shouted at me, strictly led lessons. But it seemed to me that this was how it should be. I suffered, but studied. Mainly because my mother forced.
I remember once I come to the lesson, and the teacher meets with the question: Well, what, you thought? Do you continue training or will you quit? Another 15 minutes she gave me to stand with a violin in her hands and ponder this question. And I could not figure out where he came from.
With grief in half, I reached these seven years. Practically all of them were devoted to sketches, and only the last two years I was allowed to go to Vivaldi. It was cool, inspiring, I understood what a violin is and why I wanted to play it.
But at the graduation concert, we were preparing an idiotic composition based on a folk song. When I taught her, she walked with difficulty. The teacher knew that I hate this composition, but I still put it on the concert. Naturally, I played extremely badly. School finished with shame.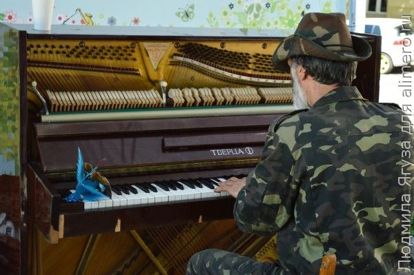 Many years later
Three years ago, a friend posted a topic on the social network that sends her son to the violin at his own request. I shared my sore experience and began to discourage her in every possible way. Her son is very active and temperamental boy. But she did not listen. And rightly so!
Somehow she gave a listen to the recording on the phone of his speech at some of their school concert, and I was just stunned! A boy in the third grade plays compositions that I began to give only in the last years of my studies. Moreover, besides the classics, he plays great jazz.
Nobody talks about superpowers and talents. Even mom admits that he looks mediocre against the rest of the children. But what he pays tribute to is the teacher.
The young girl is just a fan of her business. Each child sees his own characteristics and tries to focus on them. Etudes that I tormented for five long years, they finish playing in second grade. The focus is on serious compositions.
And here I understood how unlucky I was with the teacher. I would hardly have become a musician, but I would have spent those seven years in a music school with pleasure. Not only that, and now I would love to use the acquired skills. And so, after graduation, she sighed with relief, closing the muzykalka door.
Another question is how realistic it is today to find a good teacher for a child in a music school?