The first time our acquaintance with the rides took place when the child was 2 years old. I must say, unsuccessfully. Neither the carousel, nor the cars, or the rocking chairs inspired him at all. It's a good thing that the park workers got caught with understanding and offered to try all the attractions for kids, and then they returned the money when the child refused to ride them.
I did not insist, to be honest. I saw how their parents are terrorized by children who want to ride on the carousel. One of my friends even stopped going for a walk near the amusement park, so as not to turn every walk into ruin for a wallet or a scandal with her son. So I decided – if my child does not want to ride, it means no need, I will not persuade. His time will come, he will ask.
Trampolines that stand in every corner in the summer, I do not consider safe entertainment. Maybe a more adult child I let go of there with a light heart, but I am afraid to send my baby to the trampolines. Most likely, these are some of my personal fears, but so far he has never jumped on trampolines.
Now my son is almost four years old. At the rides he rode only a couple of times and then without much pleasure. But his love – electric cars. He is not even embarrassed that they are all old and almost dead. He is ready to ride them for hours.
But my wallet is not ready for this. 5 minutes on such a machine costs 100 rubles. I find it extremely expensive for such uncomplicated entertainment. But the child likes it, so from time to time grandmothers or dad indulge our funtik by riding such a machine.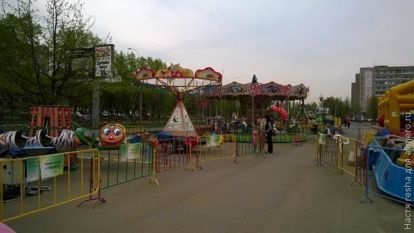 Slot machines
Slot machines became another hobby. But you do not think, of course, not those one-armed bandits who are outlawed. And the usual children's entertainment. Not so long ago, I brought him to an entertainment center for kids, thought he would jump on a trampoline or chat in a dry pool. But apparently, these games seemed to my son primitive. And then he and dad started mastering the slot machines.
That time we were for the first time in the entertainment center with the whole family. And in my opinion, my husband and I had more excitement when we fed cartoon sharks with fish or threw a hippopotamus in the mouth of balls. But the son liked the atmosphere and the push of different buttons!
And, of course, the race on the machines. They are for very big boys, ours still does not even reach the pedals. But he was pleased to even just sit behind the wheel and look at the changing pictures.
It is clear that we do not abuse trips to slot machines, we go no more than once a month. Yet it seems to me that the son is still too small for such entertainment and will have time to play enough. And at what age did you add your kids to the rides? What do they like?