Working with students, I never cease to wonder how careless they are about their own safety, their health, their own life, in the end!
Seminar

Once I go to the audience, where I should have a seminar lesson, and I see a picture from which I literally stood on end with my hair! A third-year student hangs upside down from an open window on the 4th floor, with his feet on the window sill!
I simply do not have enough words to describe all the storm of emotions that this scene has caused in me! Horror, fear (just some kind of animal), and then (when he was already inside the audience) – indignation, almost rage, but gradually everything turns into insane regret, disappointment with a touch of surprise (how can you not understand elementary truths in 20 years! ?)
Taking himself in hand, I begin to lead a lesson. Of course, not on the topic that was planned. I am simply saying that every creature has one single absolute value, which every beast instinctively values, and of course, any reasonable person. And if someone is ready to risk this value just like that – then he can be safely considered a sick, mentally ill person, for the value is LIFE!
I look at the reaction of the guys. The culprit of my monologue, who was hanging from the window upside down a few minutes ago, blushed slightly. It seems that before this child something began to reach, the rest are sitting, snickering softly, throwing him sidelong glances. I continue my thought.
I begin to explain that every life is priceless, that a reasonable person must value not only his own life, but also the life of other people. I am trying to reach out to the boys, explaining that their indifference in this situation could have cost their fellow student life.
I am trying to convince them that if even one of them said at once: Do not be a fool, Sanya!, Then this guy would immediately become clear! He would feel that his action was perceived by friends as stupid, and not as a feat, and he would hardly have wanted to lean out of the window.
But for some reason, instead of stopping an unreasonable child, some still podzadorivayu him, saying that weakly, you will not climb (I expressed this idea at random, not knowing for sure whether it was or not). But by the reaction of some I realized that I had hit the bull's eye: an embarrassed look, lowered heads, red cheeks to the ears …
These guys are 20 years old (twenty is not a mistake). And in this already quite conscious, it would seem, age, they don't understand anything themselves? Do they have to explain everything? I am terrified! Nevertheless, I continue (apparently, I was too shocked by what I saw).
I try to explain to them that they are still small, they are students who came to my class, therefore, I am responsible for them. And that I will have a lot of trouble if during this occupation someone dives upside down from the 4th floor. However, if their own life is indifferent to them, then what about mine?
Strangely enough, this argument caused the greatest response from them. But we already have 18! You are not responsible for us – they are trying to justify themselves. Shaking my head. I say that if a person has not matured by the age of 20, then there is practically no hope for it. Students thought …
Here is a seminar on an unplanned topic.

Statistics
She turned to the head of the department. Once at the meeting of the department there was a question about what it would be for the guys to invite a doctor who would give them a lecture. True, then it was a question of acquainting them with possible occupational diseases and preventive measures for their prevention.
But after the described case, I suggested inviting another trauma specialist who could authoritatively cite for them the statistics of injuries and their consequences. The head of the department said: Flag in your hands! Go and negotiate, I will find the audience and change the schedule for the right time.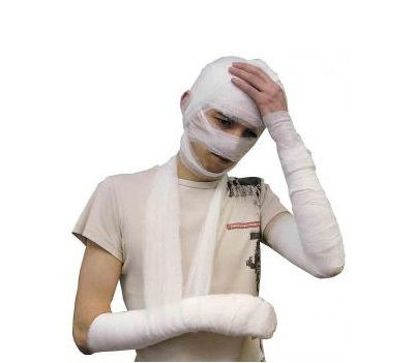 This week we had such a lecture. The statistics that the doctor brought are terrifying! The girls are trying to get poisoned, the boys cut their veins from unrequited love, and both of them step out of the windows under the influence of alcohol and drugs, more than half of the fatal accidents happen because of drivers from 18 to 25 years!
The conclusions are obvious: teenagers and young people do not value life! They simply do not recognize her values! They easily risk their own and other people's lives!

Parents are weird
It seems to me that explaining to a child that life is invaluable, that it should be valued and cherished, that every moment should be enjoyed, and that it's impossible to risk one's own or another's life — the parents should explain this to the child.
Maybe I am mistaken, and a person should have an innate awareness of this? May be! But the child every day looks at the action films, where in every frame there are mountains of corpses. Every day he plays on the computer in such toys, where everyone has 5-10 lives. He is accustomed to everywhere to hear the threat of killing you!, Which many can easily pronounce in the heat of trifling quarrel. What can we expect from this child ?!
Every year in the yard, as soon as the snow falls, the boys of 10-12 years old begin their favorite fun: they cling to the back of passing cars for 5-6 people, and roll on the road to pick up speed while they manage to hold on.
Drivers of cars, as a rule, see teenagers hooked from behind, stop, swear, boys run away. But the truck drivers just can not see that the children clung to the back and go.
I once witnessed such a scene, when an angry driver jumped out of a car and began to curse at boys running off in different directions. So from the balcony of the house next door a woman looked out (obviously, the mother of some boy) and covered this driver with such obscene language! The essence of her claims was that how dare he scold someone else's child!
This children's fun several times ended sadly: the boys got under the wheels. There was even one fatal case. This does not stop the kids!
I am most surprised by the position of parents. After all, all residents of the surrounding houses know that children are having such fun. Where are parents looking? Don't they see what their little boy is doing? Or they do not care? Strange, to put it mildly, parents …
Is it any wonder then that the children of such parents value neither their own lives nor those of others?