Do not think that I will teach your children how to study at school well. I'm not a teacher, I'm just a mom. And, like mom, I think about how to make schooling enjoyable and effective for my children. Here I learned an interesting technique, I want to share with you.
We want to learn!
When I gave my children to a preschool institution, I noticed that their interest in learning and knowing the world immediately grew. I tried to analyze the methodology that our teacher follows.
But they did not let me go to the lessons, and it was difficult for me to draw any concrete conclusions. I only saw the joy of my children when they went to school. In addition, they have already developed autonomy, which began to manifest itself even during homework.
But recently, we, the parents, were invited to an open lesson. A certain result for the month. It was very funny to watch how the kids tried to show us how they grew up this month and what they learned.
What children did with the teacher turned out to be a surprise for their parents. They prepared for us a fantasy. Each child came up with a fabulous country, non-existent inhabitants, a magical nature. Children painted purple birds, strawberry mountains and even gingerbread houses. With ecstasy they talked about local traditions, customs in their countries, about sunsets.
I did not expect this. I listened with my mouth open. Even my quiet son, Danya, told him in an unusual, loud and clear voice. And then all the children sang a song about wizards and tears of tenderness rolled from some parents.
Then the kids went to the game room, and we, the parents stayed to talk with the teacher. We were very interested in why the open lesson was held in such a form and why it focused on fantasy, and not on oblique and wavy lines.
Here is the secret!
As it turned out, the development of fantasy in children helps them in learning. Lines turn into contours of shores, circles and ovals become the fruits of fabulous trees, and the development of speech helps children learn to read more quickly and easily.
The teacher does not just make the children tedious and methodically scribbling assignments in notebooks, but encourages the kids to learn how to quickly write and read in order to get into the incredibly beautiful world of knowledge.
Arriving home, I conducted an experiment on older children. Translated tedious lessons in mathematics and writing to the country of fantasy. Examples and tasks, for example, have become the key that opens or closes the doors of an imaginary lock. If you do not solve the problem, the evil goblins will attack the castle and it will be destroyed. Children were so fascinated by such a game that now they sit down for lessons with such enthusiasm that I did not notice in my childhood, although I did well at school.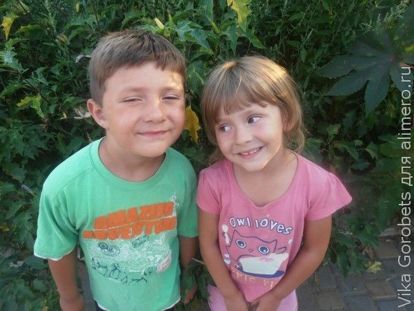 Frankly, I am very pleased that children learn to dream and speak their thoughts. They develop speech, worldview. School life becomes bright, colorful, diverse. New words appear in the lexicon, diction is produced. Children have a fear of the audience and they freely communicate in a large team.
Do your kids love to dream? You did not notice the benefits of their fantasies?