During my childhood, there were no computer games, but there were no less remarkable Cossacks-robbers and jumping in on an elastic band (the presence of which, by the way, was obligatory for any girl).
Now the situation is somewhat different – in almost every home there is a computer, which children often prefer to play with their peers, and sometimes it takes a lot of effort to persuade the child to walk.
The good old game of hide and seek and now enjoys success with children – my daughter and I often play at home, and on the street I occasionally watch preschoolers hiding within the playground or the park. In fact, these are the same Cossacks-robbers (or detective-robbers) from my childhood.
When I was little, from the age of six, I already walked on my own in the yard with friends — we played hide and seek around the house. Now I don't even want to think about my daughter being out of my sight. Sometimes it seems to me that I will walk with her until adulthood;)
Often, children reincarnate in their favorite characters from cartoons – fairies, wheelbarrows, animals and other characters. It amazes how accurately they memorize phrases, and even gestures. Complement the process of toys relevant subjects and, of course, imagination and imagination.
Sometimes, it would seem, unnecessary things can be successfully used in the game. For example, instead of throwing it away, one of the moms brought cardboard boxes to the site. Using scissors and ingenuity, we turned the children into robots;)
Playground games
After the elections, many sites in our district were reconstructed, and some were demolished and rebuilt. I remember that before the range of objects on them was minimal – a slide and a swing.
Fortunately, now on many platforms there are hanging bridges, a lot of slides of different heights, ropes, an inclined surface with holes for legs (along which you need to climb), horizontal bars, logs, etc.
Their only drawback is the abundance of children, some of which are too active and can often push or lead the younger child down the path. My opinion is that playgrounds with an abundance of sports equipment should not be walked with children under three years old, it's better in the sandbox.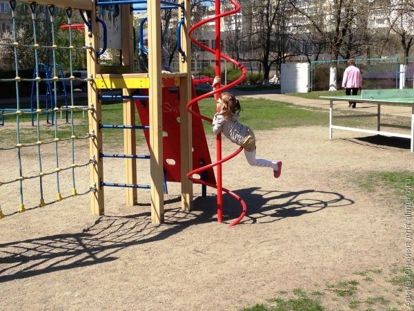 If it's hot outside, then playing with water is one of the best options for having fun. This can be done with the use of water guns, for example, because the clothes dry out in a matter of minutes.
If you do not want to wet clothes – direct the energy of children in a different direction. You can water trees, cars, water cats, etc.
With the use of water you can cook to eat. I have not yet seen children who wouldn't enjoy picking in water mixed with anything – flowers, grass or sand.
It seems to me that you can play an exciting game in any weather. In winter, it can be snowballs, and in rainy autumn – the launch of ships in puddles. There would be a desire and imagination, and there will always be available tools.
What games on the street do your children like to play?