Once at the dentist's office, the doctor said that the daughter apparently had the wrong bite. And that if everything goes on like this, you will have to put braces.
I, of course, immediately began to ask about the reasons. The doctor began to explain that this may be due to the fact that her daughter had not yet grown back teeth, i.e. there is a delay in teething.
The doctor said that as soon as the front milk teeth fall out and the back teeth grow, then there is a chance that the bite can correct itself. This is what happened. So we were able to avoid braces.

The reasons for the formation of the wrong bite
1. The delay teething.
2. Excessively long sucking dummy.
3. Bad habits such as thumb sucking, toys …
4. Frequent runny nose. As a result, the child often has to breathe only through the mouth, due to which the formation of the facial bones is disturbed and, therefore, the bite is also changed.
6. Violation of posture in a child.
7. The predominance of soft foods in the diet.

Symptoms of abnormal bite
1. Moving forward or backward.
2. Violation of the distance between the teeth.
3. Turn the teeth around its axis.
4. Uneven line of teeth when closing.
When my daughter learned that if the teeth do not fall into place, you may have to put braces, she began to actively loosen the front teeth. So she was advised by a dentist. Also, after receiving a doctor, I began to give my daughter vitamins.
Here again, an expert advised to buy vitamins and minerals not in Russia, but in Finland or best of all in Germany or Austria. Fortunately, in all these countries we have close relatives, so no problems have arisen with the purchase and delivery of the necessary vitamins.
After two weeks of taking Germanic vitamins, the posterior teeth of the daughter hatch. But three months of taking our Russian vitamins did not give any results.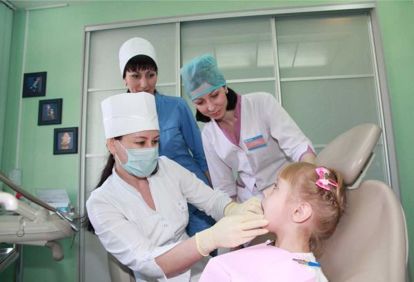 Our bite history had a good ending. My daughter has smooth and healthy teeth. So now we will closely monitor the teeth in the youngest twins. After all, the sooner the problem was noticed, the easier it was to solve it.