I really like wooden toys. When the youngest daughter was just born, we started to buy them. Bright, beautiful, eye-catching, and still diverse and useful – this is why I buy a lot of wooden toys for my daughter.
All that I wrote above – it's all the same emotions, and what are the specific advantages of wooden toys?
1. Environmentally friendly material – this is not a dubious plastic or rubber that you are afraid to give a child. Wood is a natural material.
2. The development of touch – playing plastic things, the child can not develop their tactile skills. And the tree is rough and warm.
3. Durability – wooden toys are quite difficult to break.
4. Development of other skills – while having fun with wooden objects, the child simultaneously develops fine motor skills, imagination, spatial and logical thinking.
I'll say right away that I will write only about those wooden toys that we ourselves encountered. Maybe I will not describe the entire range and I will be glad if you add it in the comments.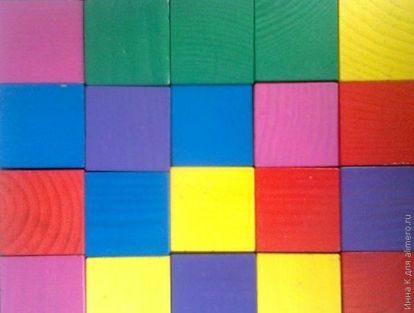 One of our first purchases is the cubes of the Tomsk factory. It is true that the daughter did not start playing at once. At first she threw them at others, and since they are heavy, I was scared that someone would be hurt, and removed the cubes until the daughter becomes more conscious. Later we studied the colors and built towers with their help.
Also on sale there are cubes with pictures. They can be put together like puzzles, thereby developing imagination, logic and spatial thinking.
Liners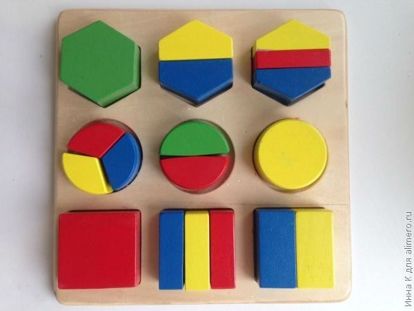 These are certain pictures or forms that are embedded in the frame. With their help, you can study colors, shapes, and also teach your child to distinguish objects by size.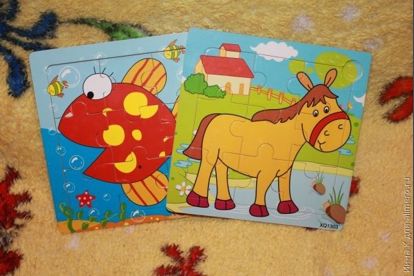 I wrote about puzzles recently. The thing is indispensable for child development. Wooden puzzles are convenient because it is convenient for a small child to hold them in a pen. They are bright and large. Can consist both from 2 parts, and from several.
We played this game in the garden. In the frame embedded fish with metal buttons. A magnet is attached to the bait. The child must catch all the fish with it. The game develops accuracy of movement and motor skills.
Nesting dolls


I find it difficult to attribute these toys to a certain category. But I can definitely say that it is very useful to deal with them. A child learns to distinguish objects by size, develops fingers, because Matryoshka can be difficult to open and close.
Wooden toys appeared in use long ago, but today they have not lost their relevance. At least, my daughter loves them very much 🙂