Not all children are inhabitants of playgrounds. A small child does not decide himself where to go for a walk. Many parents simply don't have time to spend time on the bench while the child is playing. Swing and sandbox can be done at home or in the garden.
For example, I never meet many familiar children in this crowded place. I don't remember myself having walked there with my eldest daughter. I asked myself: do I have to go for a walk with the child on the playground?
What is good playground?


Communication


Well, of course, this is communication. I like that my son already knows many children by name. I hope that when I go to kindergarten, this acquaintance and, albeit small, but all the same experience with peers, will help him to get used faster. Perhaps my daughter was getting used to the garden, precisely because she did not have this experience. Not to say that she lacked communication, but more she had to play with older children. And this, you see, is not at all that.
Entertainment


What I like – there is always something to do on the court. And do not go far. But, here you can immediately attribute a big minus, since you cannot move a step away from the child.
Why sometimes do not want to go to the playground?


Danger


Swings, ladders, slides are all dangerous places for a child. Moreover, all this equipment is metallic and installed on a concrete base (yes, we have this :().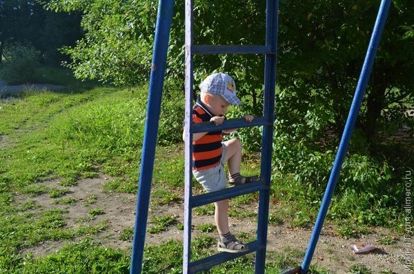 Recently, we went with our son to the playground, where there is a big slide. Fear I have suffered there! The son, of course, liked it, but he still does not understand that it is possible to roll down the stairs and fall down a high hill. Eh, when will we have safe playgrounds in every yard, and not just somewhere in the steep supermarket?
With young children, the danger is more adult children, riding bicycles and making a fuss on a hill.
Or small children driving electric cars. I believe that the parents of these children should not sit quietly on the sidelines, but walk after them and look at how their children should run over someone. So on the playground, the ear must be kept open. Constantly have to follow, resolve and explain.
Conflicts


Needless to say, on the playground they are not rare. Conflicts can be:
– between children (commonplace)
– between parents (and this is already worse)
– between adult and other children (very bad)
A quarrel between the children, of course, you will not surprise anyone. But if parents join them, the mood will be spoiled by everyone. And recently I saw how a caring grandfather of his three-year-old grandchildren drove a boy of about seven from a playground. It seemed to him that he was too nimble, no matter how little he hurt the kids. So, let your child go for a walk on the ground in front of the house, and adults will chase him away from there …
Smokers and dog lovers


Among children, they always resent me. And most importantly, this is such a category of people who do not want to understand why they are outraged by them. If you make a remark to them, they will be very surprised.
I read my topic and it seemed to me that I had more of the negative sides of the playground. But still we go there.