Every time I have to shout at a child, I reproach myself and scold for it. I remember my childhood, what it was like for me, and I understand that it is not right. But sometimes it is difficult to restrain myself.
Little crumb
When I was pulled back by my mother with a very small crumb in my arms, it was quite difficult to restrain my outbursts of rage. Eternal lack of sleep, experiences, how not to unnerve a husband who works at night, and tries to sleep off during the day. Silent chewing on his own insults on him, winding himself up …
It is clear that often broke down on the child – he will not enter my position, he explores the world, including strength, including the strength of my mother's nerves. And it was easier for me to scream at the child – he would answer only with crying and would not get involved in senseless disputes.
Of course, all this was unconscious, but when the emotions went away, I nibbled myself nibbling. After all, for a small child, mother is the entire whole world, the only person next to whom he feels safe. And here I am with my cries and complaints.
Then she sat down and cried in impotent rage at herself, and the child came to hug, which made me even more ashamed. The husband still added fuel to the fire: How can you scream at the child? He still does not understand anything!
Moreover, even the phrases spoken in a normal tone fell under the concept of screaming, but in desperate formulations, such as Lord, well, how much is possible? How long? When will it all end? She tried to restrain herself with her husband, from which she pushed herself into even greater prostration.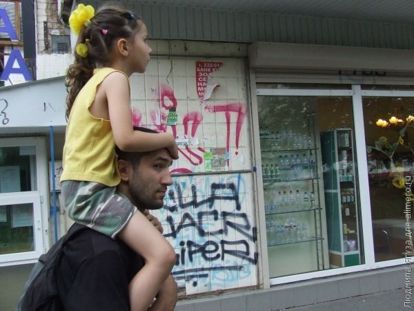 Big baby
Now the situation has changed a little. First, the child is already old enough to talk to him and agree on something. She can already make some decisions on her own and see elementary causal relationships.
Secondly, it is easier for me to control myself. Not only because of the opportunity to discuss the situation with my daughter, but also because I do not spend my nerves on stupid offenses on my husband, I do not spend energy on trying to build relationships with him.
As a result, I'm raising my child's voice a lot less and less often, and I've heard more and more often Mommy from her, I love you! Well, actually, I wrote about this before. But still, everything is not as cloudless as we would like.
For example, in the morning I hurry, get dressed, I say to the child. Wear shorts. I run around the apartment myself – she is sitting, looking out the window. Once again I remind you – I took off my shorts from my pajamas. After 5 minutes I come in – the picture is the same. You must admit that in such a situation it is difficult to control oneself. And when, before going out, it suddenly turns out that the child is dressed, but he still does not put on his panties, I may be covered with a wave of indignation.
The most interesting thing is that my husband, who almost never raised his voice for his daughter, periodically complained to me that she somehow did not respect him enough. That is, she can tell him where to go and what he needs to do, and in a tone that does not tolerate objections. As for me, quite natural consequences.
But on the other hand, he always remembered to me his grandmother, who never raised her voice for children – neither her own, nor others (she worked as a teacher at school). And this is not my husband's fantasies. This is confirmed by his relatives. At the same time, they are all madly in love and respect for their grandmother.
So I think how is this possible? Is this such a talent, or can you still learn not to raise a voice for a child and still get an adequate response from him?