Probably, each mother experienced such situations in which she had to blush for her child. There have been such situations with us. What is most surprising, something had to blush, but there was nothing to scold the child with!
Like from a hungry island

Once, Katyushka and I went to a holiday home. This holiday home is located in a pine forest. Clean air, a forest ringing with bird's voices, ancient pines – indescribable beauty! Naturally, we didn't go into the room all day. Daughter was delighted!
After several hours of forest walks, Katyusha awoke a brutal appetite. In the dining room of the sanatorium the tables were designed for four. We had dinner at the same table with an older couple. They were intelligent, well educated people with impeccable manners of behavior.
The hungry Katyushka ran into the dining room in front of me, flopped into her seat, and barely saying "Hello!" Literally swept everything off her plate before I reached the table. Every time I had to apologize for the child.
But one day she surpassed herself! Her favorite pickle was served for lunch. I poured the soup into her plate, she, as always, eagerly ate the wolf cub everything she could. But either the plate was nonstandard, or the spoon got some kind of uncomfortable, but she could not scoop out all the soup from the plate with this spoon.
The daughter did not lose her head, and without thinking, she brought the plate straight to her mouth and simply drank the remnants of the soup, making a wonderful sound of liquid sucked in by the lips! I was ready to fail with shame through the earth!
Our neighbors, being cultural people, pretended not to notice anything.

Follow the rules of the road!

Once Katyusha was left with her grandmother. Grandmother had to go somewhere, and she took her granddaughter with her. They were standing at the transition, waiting for a traffic signal, when grandmother saw that the bus she needed was coming to a halt.
Since there were no cars, Grandma crossed the road to a red light, drawing, naturally, her granddaughter behind her. They managed to jump on the bus. But it was better not to make such a mistake!
Katya started loudly, to scoff grandmother for the whole bus: Grandmother! How can you put a child in such danger ?! You can not cross the road to a red light! Do not you know?! And the teacher! Here I will give you my uncle the policeman.
Grandmother did not know where to go from the granddaughter's notation! And all the passengers on the bus literally fell over with laughter! They had to get off at the first stop …

This is love!

Husband once went to the post office to pay for receipts. He took Katya with him. There was a queue at the post office. In this queue there was a woman with a boy of the same age as Katya. The children looked at each other at first, then the boy's mother sat her son on a stool.
Kate also asked to sit on the bench. The husband allowed her. Apparently, he was distracted by something, and did not see how events developed. When her husband looked at her daughter, she … kissed the boy sitting next!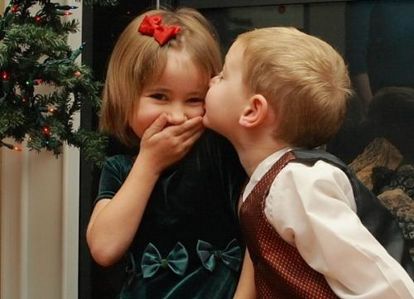 At that moment, the boy's mother also noticed what was happening. Naturally, they immediately lit the kids in different corners. The initiator and main character of this scene was, of course, Katya. The boy simply did not resist her. Thanks to this boy's mom for not scandaling.
The husband tried to find out from the daughter why she began to kiss this boy. To which Katyushka reasonably replied: Dad, but you do kiss your mother every day, and who do you kiss me? After all, I do not have a husband yet!
But I kiss my mother because I love her, the spouse tried to explain. But Katia was also ready to answer: And I also fell in love with this boy! We were standing in line with him for so long!
Did you have to blush for your child?