I have already tried to understand on the pages of Alimero in accuracy in relation to the clothes of the child. And recently, once again raking up a mess sprinkled on the table with a napkin and collecting gingerbread crumbled on a scoop on a scoop, I thought – how long? When and how to teach a child to eat carefully?
Understand child
The last straw was the scene in the train compartment, when my daughter and I were returning home from the sea. While no one has joined us, I planted her to eat. As usual, crumbs on the table and all that. Then a conductor comes in and rushes to clean up with the words: Oh, I don't know how you eat there at home, but this is a disgrace!
I decided not to enter into polemics with her, but I stopped the impulse to cleanliness, promising to remove everything when the child finished eating. Catching every crumb does not see the point, it is better to immediately en masse. But my daughter noticed that it was unpleasant for me to hear such a remark about her inaccuracy.
On the other hand, I can understand her. I remember, I also didn't really think about what and where I was falling, the process itself and the accompanying thoughts were important. I understand perfectly well, when she needs to eat a waffle, always uncoupling the cakes and licking the cream from each one in turn. She herself loved to do so as a child.
Or I remember how offensive it was when Dad yelled at me for eating the cake with his fingers. Now I understand him. His friend came to visit, brought a cake, sat down with us to drink tea. And then the child, instead of behaving like a girl, touches cream flowers with his fingers, eats them and, smacking, licks his fingers. But it's also tastier!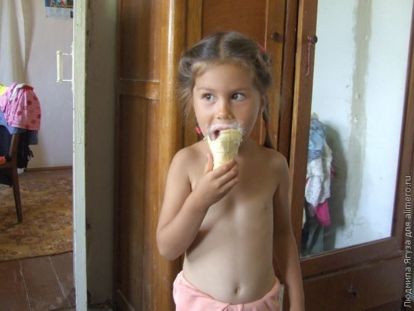 Understand mom
And yet, it's one thing when dad has to keep his mark in front of a friend, and another when mom constantly has to do general cleaning after eating. And this is at best. In the worst case, it is to blame for gazing at the present friends and acquaintances, wiping all sorts of puddles and divorces after the child.
True, I must pay tribute, by the time I was five, I finally managed, at least at home, to establish at least some rules:
1. Eat only at the table. Then you don't have to collect crumbs all over the apartment and pick pieces of fruit from the sofa.
2. On the table is always a pack of napkins. The child wipes itself when it freezes or fingers get dirty. If the porridge is warming past the plate, it will immediately collect it with a napkin.
3. If you did it on the floor, she takes a broom and collects it on the scoop. Of course, in most cases I still sweep again, but let him feel the consequences of my actions.
So far, nothing else came up. Who can that still advises?