Among my friends on the playground there is a family – mother and son. The boy is 2 years old, and no one has ever heard him speak. Even the words mom. A woman raises her son alone and is not very concerned about the upbringing and development. She knows that you need to talk with your child, but she somehow fails. Somehow there is nothing to talk about with her little one.
I believe that talking with a child is necessary not only to provoke his speech, although this is also important. Telling, we open for the little man the world, interesting and unfamiliar.
Things that are clear and obvious to us are new and often incomprehensible for a child. On the street there is so much interesting! I constantly comment on what is happening to my son: These are the big guys, they play catch-up, or this is how the guys clean snow together. We are looking for a plane in the sky and see how it is hiding behind the neighboring house. We observe people and in general all around.
For conversations with young children, the sea: fairy tales, toys, cartoons, different birds and bugs, shops, cars. I do not understand how you can be silent all the time?
A good trainer for learning to communicate is the playground. But without our explanations, the child is unlikely to understand how and where to behave. Walking there, you constantly have to remind your son that you should not throw sand, that you need to carefully move down the hill, make room, etc.
Recently I observed a typical scene: a boy and a girl were digging in the sandbox. The boy prevented the girl, she complained to her mother. Mom did not scold the boy and did not dismiss her daughter. In my opinion, she acted very wisely: she wrapped everything in a game. She invited the children to compete, who will dig and dig a hole faster and deeper. As a result, there were no offended people, but simply it became more interesting to play.
It is very interesting for the son to watch the older children play, and he would like to play with them. But I explain that it is still too early for him to play with them and I suggest just to watch. And he is interested, and the children like that they are interested in them.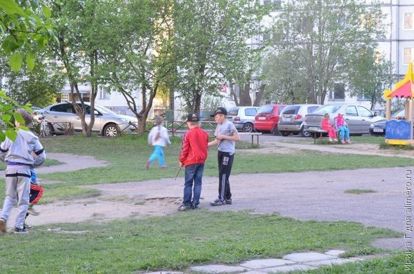 It is important for the child to know what is happening around, and for us to give an assessment of what is happening. I try not to scold other children. Recently, a girl on a bicycle drove straight into my son's bicycle. Of course, I was scared, screamed. Naturally, I wanted to scold her. But she, too, was frightened. As a result, I just asked if she was hurt.
If we do not get angry, call someone at a child, then most likely a bad person will grow out of him, not an evil person.
We grow a polite child
Be sure to greet, say thank you, sorry, be healthy, etc. You can not force the child to do this, be sure, he himself will understand what is right. My son recently said thank you to me when I untied the rope at the typewriter, and my neighbor responded to her sooner. It was nice:)
I do not like when they pester children and defiantly ask them to share something. If a son saw, for example, how his dad picked a handful of berries to his grandmother, then he himself soon brought her a berry: On, eat.
We haven't had a situation when my son tried to take something away from another child or hit someone. But when he smeared the hat with sand on the girl, I immediately apologized to her and helped to clean it. After all, he himself does not know how to do this, let him study.
Someone difficult to talk with the baby. But in my opinion it is difficult to raise and develop a child without talking to him.
Is it easy for you?