What kind of toy do you most likely buy? Regular or developing? Well, of course, I would have chosen the one that will not only entertain my child, but also develop it. But in fact, absolutely any toy can perform this function. The main thing is that it provides opportunities for fantasy.
Educational toys should help:
1. In obtaining new knowledge
2. Mastering the world,
3. In the formation of new skills.
The main thing is to show the child how to play it and what to do with it.
Any of the most sophisticated and expensive toys may not be interesting for him. So he will immediately prefer it to some sticks or pebbles, which he found on the street and which help him to create his own fantasy world.
My findings regarding educational toys
1. Up to three years, the child needs a mother more than toys. And if she can interest him in his studies, she will turn any, even the most seemingly useless at first glance, toy into a developing one. It is clear that this is not easy, and often I just did not succeed. But when I really got into the game, the child and myself liked it.
2. In order for the toy to become developing, you need to play it and show the child how to do it. Then he will repeat the game himself, but this will happen when he knows what to do with it.
3. The baby should be interested and give him an incentive, so that he wants to lace or fasten hooks and buttons on these very toys, which manufacturers call developing.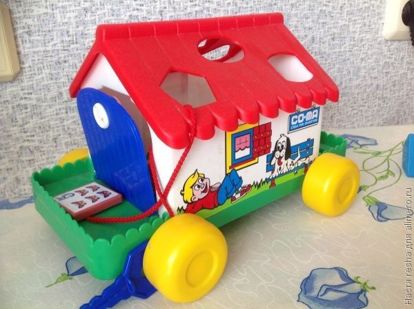 Less toys – more freedom
Recently, we began to buy very few toys. Firstly, we have very limited space, and the husband defends every square centimeter of freedom.
Secondly, I realized that the number of toys does not mean the quality of the game itself. When we came to visit my grandmother, she hastily found some old, still mine, cubes and cars. And the child enthusiastically played with this meager amount of toys, he was more interested than at home when he was standing in front of three boxes, not knowing what to grab.
In addition, one toy can be used for different games. Even a soft hare or a doll can be in one game pupils at school, in the other – spectators at the cinema, and in the third – patients at the doctor's office. I think that each of us had such a situation, when a mother loaded with buckets, shovels and balls, went with the child into the yard, and then he played for an hour with some stick or simply laid out the stones that were immediately found.
It is clear that there is a great temptation to grab in the store a toy on which the developing is written. But it is much more important to turn on the fantasy and play with the child with enthusiasm, even though it sometimes seems insanely boring.