Before school, in addition to psychological readiness, the child must master several valuable qualities: good memory, attentiveness, ability to concentrate, etc. Some of them can be developed with the help of board games and not only.
Picking up puzzles is one of the useful lessons that interested my daughter quite early – at 2 years old, when she barely spoke.
In the combined pictures there are undoubted advantages: the development of fine motor skills and attention, learning to work on the model (in the event that the child looks at the whole image in the process) helps to learn to focus. And I learned from my own experience that the development of fine motor skills helps kids untie the tongue.
However, as I had noticed, among my friends, not all children, being quite smart, were engaged in puzzles. Puzzles are just not for everyone. Besides, by the age of four, Zhenya began to fold them less and less. And then I read that it turns out that by the age of five children usually exhaust their interest in puzzles.
Among the popular and accessible games, every kind of lotto is very popular with us, but not with numbers, but with pictures and letters.
Action games with cubes and chips
Simple, familiar to all from childhood, these games are not as stupid as it may seem at first glance. Although I have so far failed to convince my husband in this, he does not like to play rpg games with us. Probably lazy.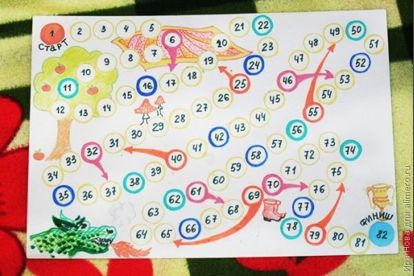 1. The future student must learn to play by the rules, memorize them and be able to obey them. Hike from start to finish is usually associated with various adventures such as skip a turn, which makes it possible to get used to certain laws.
2. If you use two dice, such games help you quickly learn how to count within ten. True, the terms will be no more than 6, but still. Thirdly, in games it is more difficult to provide special cards with tasks. Tasks need to read. So much for the practice of reading!
The main plus of these games is that they can be played anywhere, and no inventory is required for this. My daughter and I played words on the bus, at the bus stop, in the queue and simply, whipping the long winter evenings at home. We paid attention to them late in the age of six. In fact, they can be addressed before.
For word games, there are lots of variations. For example, on the principle of playing cities: each next player names his or her word for the last letter of the previous word. Words can be called any, including adults can not be afraid to call words that are unknown to the child. I noticed that my daughter, after a few hands, remembers and adopts new words, thus replenishing vocabulary.
Words may be limited to topics, for example, we call only animals. You can cancel the rule. The last letter becomes the first. When it is easy to play, it brings pleasure to the child. There is another option for the development of memory – a hat: we call any words, each next player says the previous word and adds his own to the chain. The one who broke the chain is the hat.
I am sure that any joint games of parents with children are also useful because they bring the family together. Mom is perceived not only as a nurse, a cook, etc., but also a friend!
And what do you play with the kids?