I came to this opinion after a few years of fighting my son's immunity. It all started with the fact that the son became sick every month, and then generally after two weeks. I did not have time to go from hospital to work.
We went to the pediatrician, she constantly put a cold on us, and we sat at home for a month. She said that you want your child to have a weak immunity. He cannot go to kindergarten, and to sports, he cannot do anything at all.
The worst was ahead


Once again we left the hospital, the son calmly went to kindergarten, and nothing seemed to foretell anything bad. Somehow, taking the child from the kindergarten, I saw that he was breathing very hard.
By evening, the temperature rose, the child could not breathe. I had to call an ambulance. Naturally, we were taken to the children's department. And we spent there ten days. Droppers, shots, constant inhalation. After some time, the same situation repeated. This time we were very lucky with the doctor. She told me how to make the child not sick. And reassured that weak immunity can be easily raised.
And I understood – you need to act!


When it became easier for the son, we started doing exercises, every morning we turned on the music, jumped, ran. Did a special respiratory exercises. And then I poured my son water at room temperature. I had a special bucket in which I poured water in the evening. In the morning she was no longer cold.
The son at first perceived this procedure as penal servitude. And after a few weeks already went with pleasure to the bathroom.
The next thing I did was to stop the child from forbidding to run through puddles and walk on stones barefoot. They put a basin of water on the street, and the son was busy there all day, like a raccoon raccoon. Naturally, if the weather allowed. But in principle, it is necessary to look at the child. Since the son later became so used to it that even when it was 20 degrees outside, he ran barefoot. And when it rained, all the neighbors looked at me as if it was crazy. Since my son was walking near the yard under an umbrella, but in shorts and barefoot. Putting at least some other clothes on him was impossible.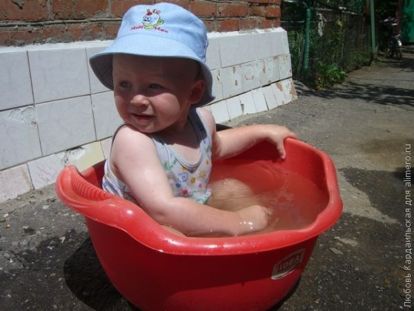 She began to wear less clothes on him, but we are always afraid that our children will freeze. But in fact, a child needs to put on one blouse more, that's all. And when the child is hot, it is even worse than being a little cool. Of course, within reasonable limits.
We added daily walks in the fresh air, 1-2 km at least. On a scooter, bike, on foot. On weekends we allowed ourselves to walk more. And walked in any weather, even when it was raining, there was a strong wind or snow. The time of walking depended on the weather: when it was cold, we walked for 20-30 minutes.
Within a few months, the son became less sick. And after six months, we forgot what hospitals are, injections, and indeed that immunity was weak. Of course, sick sometimes, but not as before.
So, everything depends on our parents, as we are blind, so be it!
Did your child have a weak immunity? How did you fight him?