Fresh air, communication and leisurely walking – this is not all that you can get, walking through the city or a little further from the slopes and high-rise buildings. I will say this, my daughter and I go there (for a walk) not at all for this.
You can touch the world!
It so happily coincided that both my daughter and I are kinesthetic. Tactillers In a simple way, these are the people who first of all know the world through touch and sensation. Therefore, on the walk we touch the World. Believe me, this is an incredible experience and experience!
It is during the walk that we learn that these fallen leaves are still soft, but these have already managed to dry. They rustle in a different way and look completely different. It's great! An excellent reason to tell the baby that soft leaves makes water. And when she leaves, the leaves become dry and sad.
Walking along, we understand that there are different smells on the street. Wide streets with lots of cars and cozy lanes smell quite differently. Bakery and coffee shop – too. Very different smell different flowers. And some may have no smell at all. Well, okay, but they are beautiful.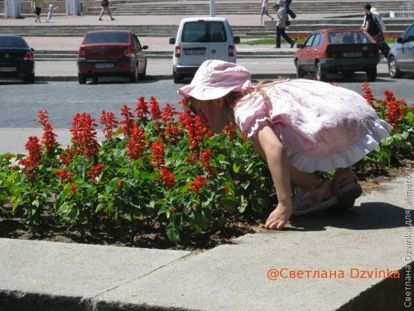 Touching and feeling the world, you can perfectly explain the information that the child receives. To tell something else. About water, which is not only in the leaves, but also in fruits, berries, and in ourselves. About its importance to us. About why flowers smell, about bees, about where delicious honey comes from. About everything in the world. This is interesting, really!
The world can be seen!
You can truly see the world while walking with your child. Not when you are in a hurry for business, often without even raising your head. Not when a lot of thoughts are digging into my head: what to cook? How to do? Where can I get a couple more hours in a day? Strolling, slowly, freeing ourselves from worries, we look and see.
In the fall, we see a crazy riot of color. At the same time we talk about the seasons, how the planet rotates around the Sun, and why all of Nature needs an update.
In winter, we see a blinding white. And we explain that this huge mass is many, many small snowflakes. And also why dirty snow is melting faster 🙂
In the spring we see the first greenery – an excellent reason to talk about the fact that very soon these blade of grass will become big and strong. It is now they are kids. Like you.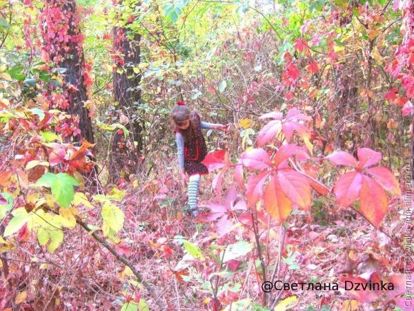 We see – and we speak. We see – and know.
Peace can be heard!
Hearing the world on a walk is incredibly exciting. Listen to how the world sounds! You can even stop, close your eyes and play, switching between different sounds. The rustle of leaves, the noise of cars, someone's steps – far and near. Listening, you can hear a lot!
See, listen, feel – and learn the world! For the child and with him.