Do you like sand painting? This show fascinates me. You look, and it seems that the drawings in the sand are made very easily by themselves. However, you can try your hand at this art at home. However, while this is only a game with a child and we will be decoys, not sand. But the process itself is very similar.
For the game will require:


1. Semolina. Not everyone has a river sand at home, but everyone has semolina. Loose properties they are very similar.
2. Glass baking dish. The more, the wider your field of activity will be.
3. Cardboard box. It is desirable for the size of the form. I asked for the box in a nearby store.
4. Flashlight. In principle, you can do without it, I will tell about it below.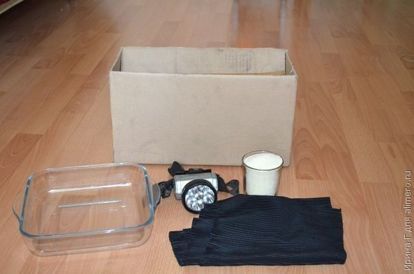 Screen manufacturing


Put the included flashlight on the bottom of the box, insert the top form, pour out the semolina in the form. Here is our mini improvised drawing screen.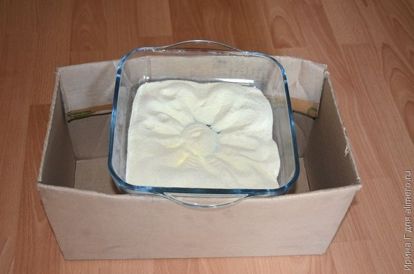 True, I could not find the box exactly the size of the form. But I didn't run around all the shops. Just spreading the edges a bit when putting in the form. You can, of course, stick a transparent film on the box with a scotch tape from some kind of packaging. I think it will be no worse, and the size can be made larger. Only here the sides will not, and the semolina will be poured from the edges.
The amount of cereal depends on what you are going to do. If you draw, it is better to pour only so that the bottom is covered. If you want plenty of hands in semolina, you can pour a thick layer.
As we drew
We tried to draw the sun and an asterisk.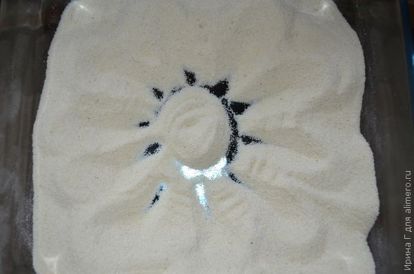 The flashlight was just not superfluous here.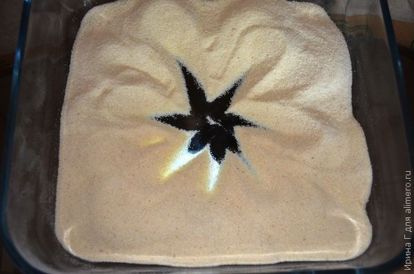 But then I decided that since semolina is white, the drawings will be more noticeable on a black background. And just put a black cloth on the bottom of the box. By and large, you can do with the form and black fabric, but with a box design more stable.
For his son, this way of drawing was something new and unusual. He gladly traced his finger on a manka and looked at my drawings with interest.
We drew a Christmas tree.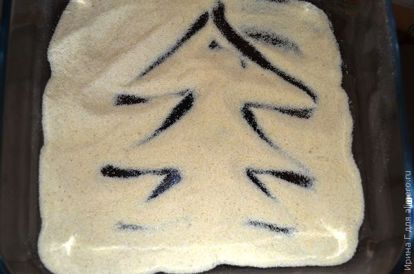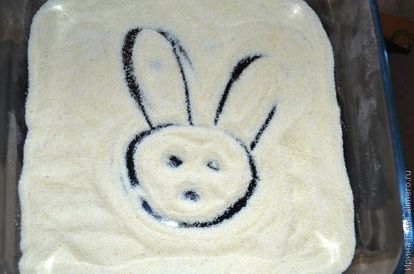 Then a smiling face.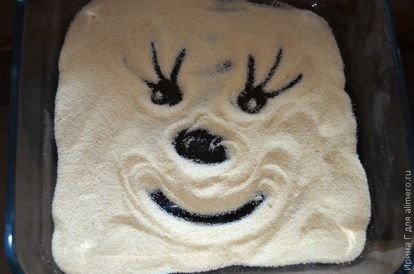 But the son himself drew this face.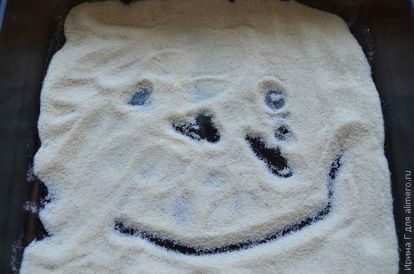 Tried to do handprints. It turns out that this is not so easy for a child.
We learned to pour semolina trickle.
The last drawing is a typewriter. My son has a special love for typewriters and he did not want to hide her. At this our creativity and ended.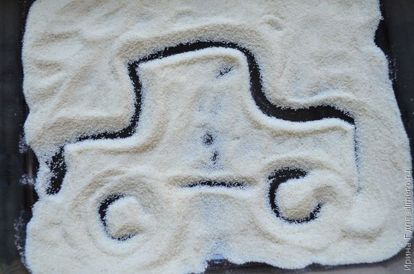 We really liked the game. Develops imagination and fine motor skills of hands, trains sensory perception. And simply – this is something new, and everything new is useful for brain development.
Here is such a wonderful cereal – semolina!