Nowadays, parents are trying to fully develop their baby. And, preferably, from birth. Various methods of early development are used, and, at times, very expensive equipment. I'm not even talking about the centers of early development, which was divorced apparently-invisible. We develop everything: fine motor skills, logic, spatial thinking, reading and writing, and even math. And about the imagination – it would seem, the fundamental principle of all – is often forgotten.
As known, imagination is divided into 3 types:
1. recreative;
2. creative;
3. uncontrollable.
Recreating imagination is when a child reproduces what it has already seen or heard.
A synonym for unmanageable imagination is fantasy. I think many parents were faced with the fact that their child suddenly began to invent unusual stories with a famously twisted plot, the main character of which very often becomes himself.
Creative imagination – is the ability to create new things without using anything as a basis. And it is precisely creative imagination, and not logic, that ultimately helps in the adult state to search and find non-standard, non-template ways of solving this or that problem. In another way it is called creativity.
How to develop this ability, so necessary in adult life? I will give as an example those games that we play with my three-year-old daughter.

I conditionally divided these games into 4 groups:
Nature:
During the walk, my daughter and I look at the clouds, puddles, trees, leaves, stones and discuss what they look like. And then I think up a short story about our walking heroes. My daughter really likes it.
We walk with our daughter in the apartment and pass through an imaginary obstacle course: we walk around the puddles, jump over the pits, go up the hill, and then run down.
Reading:
Like most children, the daughter loves when I read her books. But she loves even more when we sit in our chair and I start telling stories or stories that we read earlier. In the process of my story, my daughter makes changes to the plot. Sometimes it finds me and I myself invent fairy tales. Daughter – delighted!
Shortly before bedtime, I turn on the tape recorder and put my daughter a disc with fairy tales or poems that we haven't read yet. In other words, she did not see the pictures, so she was forced to invent images of the characters herself. At the moment, By Pike is the hit of the season.
Do it yourself: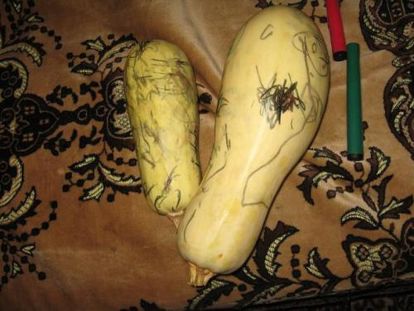 We collect interesting natural material during a walk (leaves, twigs, pebbles) or look for houses (walnut shells, an unusual form of potatoes). And using plasticine, paints and felt-tip pens to draw an image. For example, this is how we invented mum kabachiha, dad kabacha and a small tavern.
Once or twice a week, my daughter and I draw with finger paints. Not only pens, but also daughter's legs are involved in this process. We draw, so to speak, on a free topic, and then by common efforts we come up with the name of the painting. Sometimes I take a blank sheet (preferably from a notebook) and spend it in passing through the drawing while the paint is still dry. Unfortunately, I forgot the name of such a technique. It turns out something like a blurry picture, which we jointly draw.
Other:
My daughter really likes to dress up. For this purpose, she most often uses my things: hats, scarves, belts, bags and jewelry. And inventing images for themselves. For example, today she – Zoya Ivanovna – grandmother's girlfriend. This game is called Costume.
It is in such simple ways that children's imagination can be developed at the age of 2-3 years. And no money is needed. The main thing is sincerely the desire of moms to communicate with their child. Be with him on the same wavelength.