Often, like many mothers, I seek to help my child — to free her daughter from performing any duties, to do some work for her, etc. But am I digging my own daughter's pit this way? Maybe this is my behavior will cause that she will cease to appreciate human labor?
There is an opinion that there are no duties male and female, and children should be accustomed to everyday duties equally regardless of gender. But it seems to me that everything here depends on the distribution of responsibilities in the family – if equality prevails in everyday life, then an appropriate upbringing is welcome.
Obviously, a five-year-old child is not able to wash dishes with good quality (except for small things like glasses or spoons). Although, even twenty years ago, children of that age were warming food on the stove for themselves and for their younger brothers (judging by the stories of the grandmother).
For educational purposes, I occasionally ask my daughter to wash the dishes or sweep the floor. But to be honest, I do not have enough patience to do this on an ongoing basis. Because after such help you have to clean up the assistant.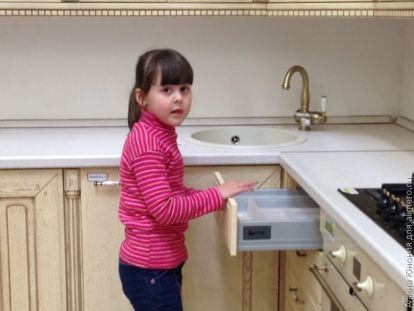 I know that this is wrong, but I do not like to stretch the processes of cleaning and cooking in time. I just constantly pay my daughter's attention to my occupation – I voice my actions, talk about fatigue, give it a try to do something. Well, when there is free time, then the daughter, of course, serves as a full-fledged assistant.
To explain that money is not taken from the bedside table, I started two years ago. Because sometimes the daughter's store had no boundaries – she had the desire to just buy, and that does not matter. At first, the word work was something abstract for her, but then she went to work for me, her grandmother, and began to pay attention to the fact that mom was not having fun at the computer, but working.
Now, when her daughter has personal money, she treats the work of adults a little differently. The fact that adults are working has become an axiom for her, and now more and more often I hear from her proposals for savings.
I try to explain to my daughter as much as possible the value of human labor – I pay attention to the work of janitors, doctors, and in general, all professions are needed regardless of their popularity and visual appeal.
After all, it is impossible to tear flowers in a flower bed not only because it hurts them, but also because a whole team of workers worked to bring this flower bed in order. Practically everything that surrounds us is created with the participation of human labor – physical or intellectual. And that is what I am trying to convey to the child.
Every time my daughter is enthusiastically busy with something, I focus her attention on the time and effort spent. And I treat her work with the utmost respect – I admire the hand-made articles, keep them and photograph them.
And how do you educate children in diligence?