It so happened that there are no large parks in my city, but the forest is almost at hand. The main thing is to climb one or another mountain. One above, but partially can be reached by bus. The second is lower, closer, but the rise is also steep.
It doesn't matter if I'm walking with a pram, or the dad takes the children in turn, but I have to recruit a lot of different things.
For children, going to the forest is an even bigger adventure than a trip to the city. Everything in the city is familiar, not very much: boxes of houses, pedestrians, cars, some trees and shrubs.
But the forest is always unexpected encounters: either our dog will scare away a hare and he will rush quickly near his very feet, or some insect bugs will meet, then a butterfly, out of place, will flutter, then on the way back closer to the city at dusk a hedgehog through the path breathe …
In general, they always have enough impressions. There is no limit to joy.
I will talk about behavior and games in the forest later, but for a start, the most important thing is how to equip a child and what else to take with you so that the child can be comfortable and you feel comfortable.
To begin, let's start with a day trip. What do we need?
First, practical shoes: closed from the pricks of blades of grass and thorns and, of course, made of natural materials, so that the feet of the baby breathe. Best light moccasins or sneakers, as they are less tired.
Secondly, even if you go to the heat, it is highly desirable that the clothes also completely cover the body and hands. For example, lightweight tracksuit. This is a good defense against attacks of ticks and other dangerous or highly annoying insects.
Thirdly, a headdress that will save the child from the sun on any forest glade. And the same ticks protect. The hat, as for me, ideally should be wide-brimmed.
It would be right to take an extra set of clothes in case of bathing in streams or other unexpected situations.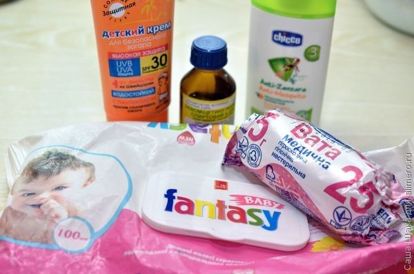 Protection against insects is not only the right clothes, but also modern means in the form of sprays, ointments and other cosmetic miracles against ticks, mosquitoes, mosquitoes. Tanning cream.
Be sure to grab wet antibacterial wipes. Better anti-allergic, odorless.
A small first-aid kit in which you put a plaster (rubbed a leg, cut yourself, broke a knee), brilliant green or iodine (to treat possible wounds), activated charcoal (eaten the wrong berry).
It is also advisable to take karemat (travel mat), in extreme cases, litter.
If the baby is too small to go on long walks, it will help out with a backpack.
It is worth thinking about what to take the child for a walk or while standing.
This may be a net, as children are delighted with butterflies, or a ball, if there are several children. Although by and large, what we see and find in the forest can be beaten with many games, and this is a separate topic for conversation.
Understandably, we take a drink and food. And without any doubt, children will be delighted if their dinner is cooked on a fire, and they can throw grass and sticks at it.
That's probably all. Have a nice weekend hike!
Do you go camping with your children? How does this happen to you?