My daughter and I are very fond of the bath with my grandparents. We go there, of course, not in the very heat and while not particularly steamed.
But to splash in the bath, dive with rubber ducks to the noise of crackling wood in the stove, the hiss of boiling water and the wonderful aroma of brewed birch or fir broom – we love that.
Periodically, a girlfriend and her family come to our bathhouse. Her son Egor is already 5 years old and they are actively tempered by the whole family. My heart just breaks off when I see how this peanut jumps out of the bath into the snow, and in the fall and spring pours cold water over me!
Yegor was introduced to the bathhouse relatively recently – last spring, and at first the baby didn't accept her very friendly. It is understandable: the heat, twilight, and even some kind of prickly broom on the pope for no reason slammed.
In general, it all ended with tears and a complete refusal to ever come nearer to this terrible place.
Second try

By the summer, it was decided to deploy a full-scale operation to familiarize the child with the bath culture at a family-friendly council.
First went to the nearest birch grove for brooms.
In daylight, it turned out that this was not at all a tool of unjust punishment, but a very fragrant bouquet of birch twigs. After the brooms were prepared, I had to go for a little trick, and say that by the evening they were already dry.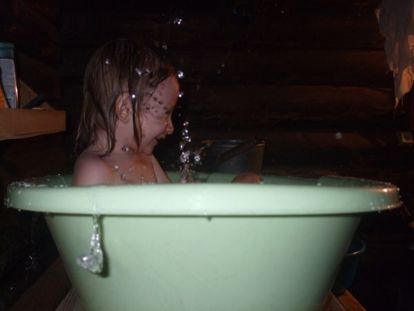 Next, the men's society went to harvest firewood, water, heat the stove. And, of course, Egor took an active part in this: he wore slivers, checked whether there was enough water. He personally brought a broom and a bunch of fragrant herbs to make the water curative.
Who would have thought, but the child could not wait, when, finally, the bath would be ready! I did not even recall the past bad experience. And in the evening, when everyone gathered in the kitchen to drink tea, he had already made plans for the next weekend – when he would come again to bathe in the bath.
Harm or benefit

Opinions about the benefits of a bath for a child differ. But for me it is obvious that there is no harm in the bath. Of course, in all you need to know when to stop. Too high temperatures for the baby are not allowed, as well as a long stay in the steam room, and hot wet steam.
But, when all the conditions are met, going to the bathhouse for the child is a joy.
And how the kids sleep after that! A sight for sore eyes! And they get sick in the winter less, and the blush on the cheeks is brighter.