Often you look at adults already and you wonder how you can dress like this? The point, of course, is not in the value of things, but in their combination and relevance.
It cannot be argued that the lack of upbringing of the sense of taste at preschool age is to blame for this — its formation also occurs at school age, but it does begin in early childhood.
The opportunity to take part in the choice of clothes not only increases the child's self-esteem and instills a sense of self-reliance, but also provides an opportunity to show their color preferences and show the first attempts at self-shaping a wardrobe.
This does not mean that you need to run a preschooler in the store with the phrase buy what you want !. Here, as in that joke In our family, everything is decided by the father, and who is our father, the mother decides.
Talk with your child about his choice, if this is something not at all suitable – explain the reason for your reluctance to buy (synthetic fabric, the lack of a suitable size, etc.).
Try not to buy things just like that, every purchase should be considered – whether it will fit existing clothes, is it necessary, is it convenient to use.
Recently, we were with the daughter in the store, and she almost clung to her colorful skirt with her teeth. I also liked it, but it is very difficult to combine such things with riding – it is needed monophonic, and we practically have none. A similar situation with bright red shorts is an excellent thing in itself, but they only look more or less with a white T-shirt, which, unlike shorts, we have a sporty cut, is again inconsistent;)
The best option is to buy items in one store, often collections consist of items that are in perfect harmony and combined with each other. Thus, we usually buy up in Gloria jeans and American online stores.
For children, this is not the last factor when choosing clothes. As befits a girl, the daughter often pays attention to the elegant and, in most cases, completely unshakable clothes.
Again, instead of cutting it off, I will not buy it, explain that it is completely inconvenient to play in chiffon dress at the playground, for example.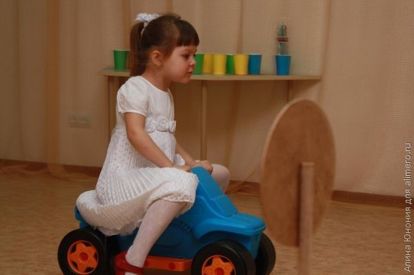 I have a friend who likes to dress her daughter in just such clothes – her winter overalls are not only golden in color, so also from fabric very similar to satin. The set is complemented by white patent leather boots and a huge white shawl decorated with a brooch.
It may be beautiful, but because of the fragility of the dress, the girl is forbidden to play outdoor games – snowballs, digging sand, rolling down slides, etc.
In general, you can only stand still or walk, but slowly, so as not to fall. For some reason I remembered how I had white suede boots and a sheepskin coat of the same color – it was a torture for me to wear this outfit.
After three years, the daughter actively participates in the discussion of the daily dilemma of what to wear ?. I try to teach to dress according to where we are going. For example, if we have a walk along the promenade according to the plan, then we put on a dress. If we go to the site, where there will be a slide – then you should wear shorts or pants.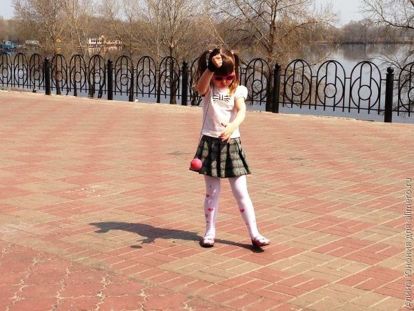 Do not forget about shoes, do not forget to explain that under the coat should not wear sports shoes.
Pay attention of the child to the main types of colors and patterns – cell, strip, peas, my favorite cucumbers, etc. The best option is a combination of a multi-colored thing with a single-color one. By the way, for some reason it is so difficult to find plain children's panty hoses, and it's so difficult to choose the top under patterned ones.
Everything is very individual here – someone is crazy about the combination of contrasting shades, while others are afraid to play with colors. I like the rule to combine no more than three colors in one image.
Tell them that simply taking the first thing from the cabinet and putting it on is not the best option. It should be considered whether a thing fits specifically your figure – whether your merits underline, whether it is appropriate for an exit in a particular situation, whether it is convenient.
It is no secret that children, like magpies, rush on everything brilliant and bright. I remember that the daughter expressed wild delight at the sight of a terrible plush blouse of a poisonous pink color, also with sequins. Again, instead I will not buy should explain the reasons for your dissatisfaction.
Someone thinks that clothes are needed only to cover up nudity and protect from cold. I tend to think that her functions also consist in looking attractive, which is important, especially for a girl.
Therefore, I do not admit a frivolous attitude to her choice, I try to make things multifunctional, maintain their appearance for a long time, and the combination of price and quality is optimal.
In no case should not impose stereotype expensive, so beautiful, this is not always the case. You can have a whole dressing room of expensive things that are completely incompatible with each other and are tormented every day by the problem of choosing a dress.
Talk with your child about the various options for the image, ask what colors he likes more, show with visual examples how clothes can hide or highlight the flaws of the figure.
And how do you cultivate taste in clothes?