It so happened that my own children instilled a love for drawing. Naturally, I do not create any masterpieces, but I draw with them with pleasure. And also I try to diversify this process and seek out new and unusual techniques. If it seems to you that drawing is boring, I suggest to get acquainted with our review!
This type of drawing is also an excellent respiratory gymnastics. We plant watercolors in different containers with a small amount of water. Then pour a pipette slightly on the leaf. We give the child a tube and ask to blow on the paint. Just make sure that your baby does not drink this paint. And then everything can be.
On paper there will be such beautiful stripes and blots. Now we fantasize about what it might be and paint on the missing details. We have 2 acrobat brothers. 🙂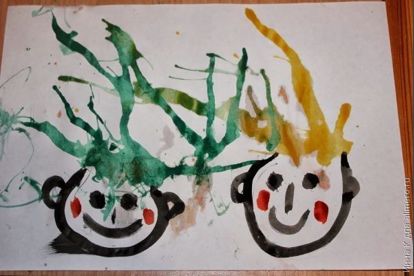 Sprinkling
Take an old toothbrush or a hard brush and a wooden pencil. We apply paint on the brush (gouache or watercolor), hold it over the sheet and draw a pencil over it so that the splashes fly on the paper and not on the child. Of course, the spray flies not only on the drawing, but also around. Therefore, it is better to learn this technique in a safe place, not near expensive furniture.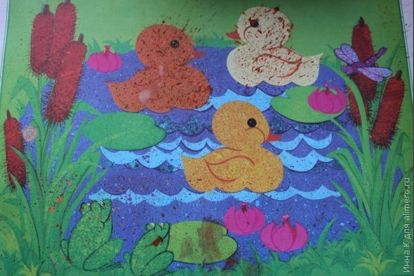 This way you can refresh the already finished picture. For example, we sprinkled snow on a country house and revived ducklings.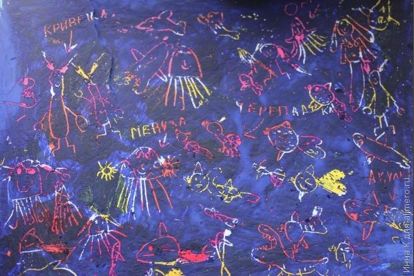 For the development of technology is better to take a colored sheet of paper. Carefully rub it with a candle. Add some liquid soap to the gouache and put it on a paraffin sheet. Now we are waiting for the paint to dry, take a match or a toothpick and scratch any pattern on the surface of the gouache.
Watercolor wax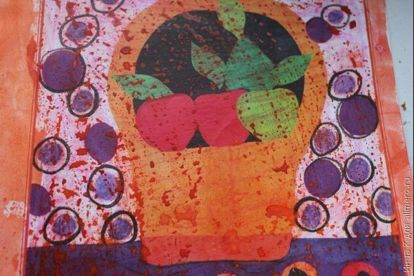 Interesting drawings are obtained by first rubbing the sheet with a candle and then painting with watercolors. The paint will not go straight, but will roll down in droplets of various shapes. As an option, you can take wax pencils, draw something on a white sheet and apply watercolor on top. The wax pattern will show through the top layer.
Potato Seals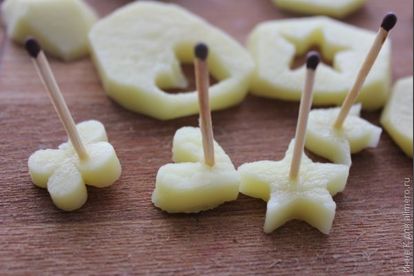 I always cook with my youngest daughter and therefore every time I think of what to do with it. I recently remembered that we made seals from potatoes in childhood, and decided to surprise with this child. She took the molds for the shape cutting of vegetables, cut the potatoes with plastic and squeezed out the seals. For convenience, I planted each on a match.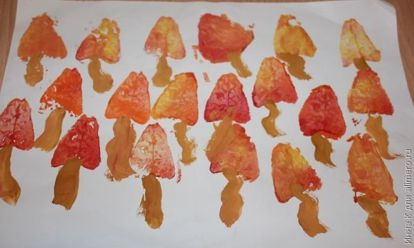 She smeared gouache on a piece of paper and sat her daughter in front of a clean sheet. She dipped the seals in the paint and put them on the sheet. It turned out very beautiful! This case was so much liked by my younger one, that now she constantly takes potatoes away from me and tries to lower them into paint! We also just cut out leaves from a half of a vegetable and depicted autumn with their help.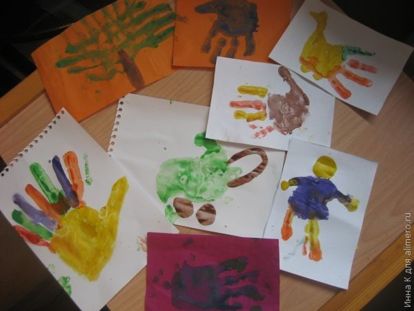 This is a very fun technique. We paint the palm of the child in different colors and put an imprint. We look at what it looks like, and draw the details. It turns out bright fish, chickens, suns and even strollers for children!
We dissolve watercolor with soap bubbles, put a sheet of blank paper and blow bubbles over it. It should turn out beautiful!
Thoroughly mnemen paper, dip it in the paint and put an imprint. We look at what it looks like and draw it.
You can endlessly list various drawing techniques. For example, I have plans to study various artistic styles with children and create similar drawings. What prevents us from portraying bunnies and bears in a cubic style? Drawing is fun and entertaining, and besides it contributes to the development of a child of relevant abilities.
And what unusual techniques do you know?