In the kindergarten, which attends a daughter, a lot of toys. Virtually all of them are in excellent condition and are updated as they deteriorate.
Last year, when the daughter was in the nursery group, they had an excellent sports complex, which included: a small exercise bike, a slide, a massage mat. Almost all the children liked to study there.
The teacher often conducted classes on a massage mat — the children took turns (without shoes) on different types of surfaces, which contributed to the development of motor coordination, prevention of flatfoot, etc.
To the delight of the girls in the group there is an excellent kitchen corner – with a stove, oven, kitchenware and a refrigerator. I often see how the girls enjoy cooking.
The cost of such a toy is rather big, I don't think that the state garden can afford an ELC toy worth about 2000 rubles. Most likely, it was presented to the group by one of the children.
Outdoor toys
In the dressing room of the group there is a big basket with toys for playing with snow and sand – shovels, rakes, forms for beads. The teacher said that the money for their purchase was taken from our parent fund.
We also have several large wheelchair machines, a couple of strollers, walking sticks and scooters, nets (though I never saw children walking with them), toy dishes, chalk, balls, for boys – small models of cars and cars. trucks.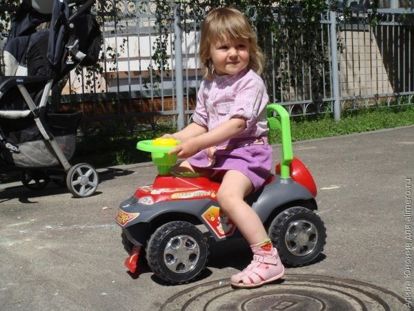 In the nursery group, we even had a large folding table with chairs and a huge umbrella, under which you can hide from the sun. Again, the money was allocated by the parent committee.
My least favorite toys are almost absent in kindergarten. Most likely because of their ability to accumulate dust on themselves.
My daughter gave someone a huge hare and a duck, which I was sorry to throw out, but it was awkward to perevarit;) I suggested to the teacher of these pets, now they are in the locker room – in the winter under an artificial Christmas tree, and the rest of the time they participate in some natural installation.
In the nursery group of developing ones there were perhaps several sets of cubes, pyramids and constructors like Lego. In the younger group we have a lot of puzzles, more complex designers.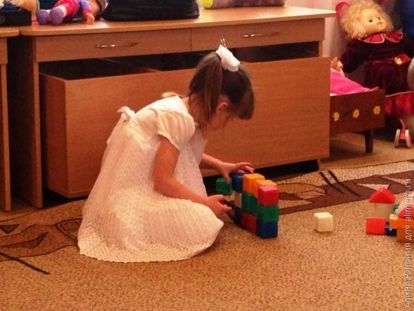 We welcome the desire of children and parents to give toys to kindergarten. After all, it often happens that a child has grown up, and toys that are already uninteresting to him are lying idle and occupy a place.
Everyone knows that kindergartens are in public funding, which is so minimal that it is often impossible to update the assortment of toys. Therefore, I have nothing against the fact that parents are financially involved in the purchase of new toys. After all, this is done for our children in the first place.
And what toys in groups have your children?