In the days of my childhood there was not such an abundance of cameras and video cameras as now. Therefore, I carefully keep all memories in my memory. And recently it turned out that some elements of childhood – books and toys – are preserved safe and sound on my mother's initiative.
Unlike me, she likes to keep old memorabilia – from postcards to molds for cookies. In principle, these toys are not entirely useless, especially since my daughter is now actively interested in them. I would like to tell about some of them in today's article. I hope the trip to the past will be enjoyable!
A great game that can be played together – 30×30. Using one set (playing field, balls, cards) you can play many games. My favorite with my brother was the game Renju, a complicated version of the noughts and crosses. True, you need to build a line of five balls.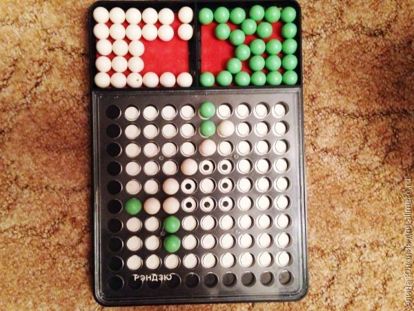 We also had a monopoly, however, somewhat different – called the NEP (new economic policy). The most interesting in it was the money that we actively used in other games.
We had a lot of board games with dice. Especially beloved, like the one in the photo, my mother even wrapped us in plastic wrap so as not to tear. The principle of the game is simple – throw a cube, move the chips. I remember the most offensive in this game was to go back to the beginning by elevator.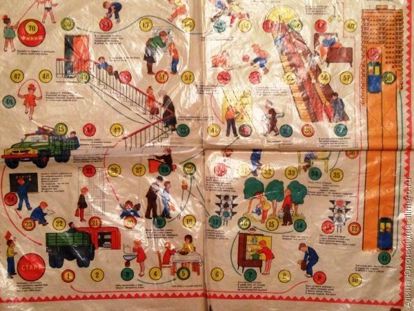 Unfortunately, one more game – with cat cards, the daughter discovered several years ago, and some of the chips were lost. The principle of the game is similar to lotto, the goal is to be the first to build a line of identical cats. I remember my favorite was red with a blue bow.
Here, of course, there was no such diversity as now. My favorite were dolls Malvina and Little Red Riding Hood. True, in order to create a new image, I cut off their bangs, but for some reason my hair did not grow back. Therefore, I had my pupae to wear caps;)
But on the fifth anniversary (by the way, I remember this moment a little) they gave me a huge, with my height, doll, which I called Kuklyusha. She had a huge wardrobe, because she fit all my clothes, and it was very comfortable to sleep with her, her body was stuffed with padding polyester.
Barbie, now popular, appeared by the end of my childhood, I even managed to play one of them, but I don't remember her completely for some reason.
Here, too, of course, do not roam. The most we could count on was the game Wolf catching eggs and Tetris. Moreover, the first one was surrounded by the myth that the one who scores the maximum number of points will see a cartoon on the screen.
There were lots of variants of Tetris, though, it was not worth flattering the inscription of 9999 games, they all cannot be different, the maximum of options is about 20, if my memory serves me.
While writing, I remembered another interesting game – rings in the water. We had it big, with a capacity of about a liter, probably. The principle is simple – by pressing a button, a stream of air is formed, which drives the rings. They need to put on sticks.
Ah, beautiful time – childhood! And those toys were no worse, although they were much smaller now. And it is very interesting to me, which of my present toys will my daughter remember in many years?
And what toys from your childhood do you remember?